Star attraction: the making of Jean Nouvel Design, Neal Feay Company and Sapa's Wallpaper* Arcade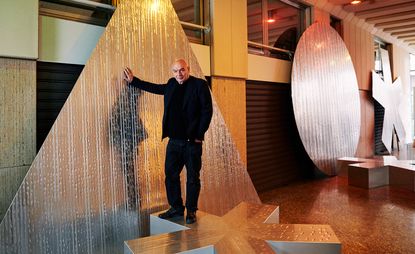 (Image credit: Danilo Scarpati)
Checking into Hotel Wallpaper*, this year's Handmade exhibition at the Salone del Mobile in Milan, proved to be an awe-inspiring experience: a passageway lined with enormous aluminium shapes, bathed in coloured light. The installation was a collaborative effort between a top aluminium supplier, a leader in creative aluminium treatment, and one of the world's greatest architects.

The Wallpaper* event occupied an arcade in via San Gregorio, for the second year. 'A humble location,' says Alex Rasmussen, president of the Santa Barbara-based aluminium fabricator Neal Feay Company, describing it as a 'crummy, post-war Italian condominium complex' with 'oddball storefronts' and dog-walking residents passing through on their way to the lifts.

It's no small feat to transform a retail arcade into a work of art, and this year the challenge was magnified by the installation's ambitious scale. Neal Feay Company flew more than 2,000 aluminium modules from California to Milan, where each geometric element had to be pieced together on site. 'It was building architecture for a five-day event in a hallway where people are living,' says Rasmussen, still seeming surprised that they pulled it off. The third generation to run his family business, Rasmussen has modified Neal Feay Company's focus over the years from aluminium bracelets to audio equipment cases to his great passion: industrial design. The firm has collaborated with design talents such as Holly Hunt and Marc Newson, but this marks the first time it has worked with Pritzker Prize-winner Jean Nouvel and his Jean Nouvel Design studio.

For his part, the French architect is no stranger to aluminium, having used it in everything from the Institut du Monde Arabe in Paris to the recently completed Philharmonie de Paris, which he covered with 290,000 bird-shaped anodised aluminum tiles in different shades.

For the Milan installation, he chose a natural aluminium that would be machined for maximum reflectivity. In contrast to last year's Handmade exhibition, where the textile company Kvadrat hid the arcade's windows behind drapes, Nouvel's art director, Ernesto Mistretta, says they decided to 'assume the space as it is', simply rolling down shutters over the shopfronts and drawing the visitor's eye with the colossal shimmering shapes.

The raw material came courtesy of Sapa, a global leader in aluminium solutions, with headquarters in Oslo. Though the company is present in 40 countries, it generally works behind the scenes, providing aluminium to industries from mass transportation to construction. Hilde Kallevig, vice president of external communications, says that aluminium is unique. But many designers are unaware of its properties, which is why Sapa leapt at the chance to take part in this project and show off the possibilities. 'Using metal to decorate a rundown arcade and working with a world-famous architect and a company that has made aluminium sexy to the world of retail was a perfect way to showcase our expertise,' she says.

When mixed with other elements to form an alloy, aluminium can be as strong as steel, at as little as one-third of the weight. (Indeed, Kallevig says, you could jump on the installation's benches without doing them damage.) Abundant and sustainable, aluminium can be recycled repeatedly. It resists corrosion and can withstand conditions from the Arctic to outer space. And pure aluminium is soft enough to extrude, which forms it into complicated shapes without gluing or welding, like pushing pasta through a machine.

Nouvel took full advantage of the material's malleability. Inspired by the power of letters, virtual text on smartphones and basic shapes, he designed huge geometric forms – triangles, circles and the Wallpaper* asterisk – for freestanding wall panels and oversized benches.

Sapa supplied Neal Feay Company with two and a half tons of extruded aluminium in flat rectangular panels. Rasmussen's team cut it into Nouvel's desired shapes before anodising it, using an electric charge and a dilute acid bath to convert it to aluminium oxide. Anodising is an industrial process that protects the metal, but Neal Feay Company approaches it from what Rasmussen calls a 'cosmetic standpoint'. For this project, the company developed a special technique to further boost its sheen.

The aluminium surface was finely machined, then Neal Feay Company used a ball-end mill to carve a series of teardrop-shaped recesses that mirrored the light even more. Mistretta says, 'The tiny indents created an interior play, like small Anish Kapoors.' Nouvel describes the effect as 'eroded as if by raining tears that left their trail on the metal'. Raised parallel lines on the metal added another layer of reflectivity. The result, Rasmussen says, was 'a version of the material that no one had experienced before'.

The arcade's ceilings are 4m high, and the nine freestanding elements reached practically to the top. Every one of the shapes weighed more than 200kg – each circle, for example, was composed of 135 panels and came in at 270kg. 'The sheer scale of the pieces in that environment was almost shocking,' says Rasmussen. 'It had that ship-in-a-bottle experience.'

Lighting was key to the installation. Nouvel's team attached filters to the existing ceiling lamps, so that light in shades of red, yellow, purple and green bounced off the aluminium and brought it to life, creating different zones of colour along the corridor. Seating was another consideration, and the architect designed asterisk benches – a shape that was both a nod to this magazine and ideal for groups of people to congregate. 'The Wallpaper* asterisk – a lucky star – was scattered randomly across the stone floor to grab the attention, provoke conversation and draw visitors to the show,' Nouvel explains.

Kallevig notes that in addition to looking fabulous, the five-armed aluminium benches served an important purpose during the crowded opening night party: 'We were pleased to see that with a lot of ladies in high heels, they became the centre of attention for sore feet.' It turns out that the asterisk form lends itself perfectly to function.

As originally featured in the August 2016 issue of Wallpaper* (W*209)
See more from Handmade here and check in to Hotel Wallpaper*…
INFORMATION
For more information, visit Jean Nouvel's website (opens in new tab), the Neal Feay Company website (opens in new tab) or the Sapa website (opens in new tab)