Handy man: film and suit, by Lernert & Sander and Brioni comes to life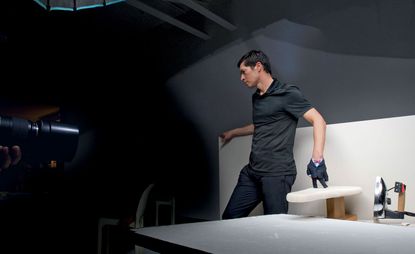 (Image credit: David in den Bosch)
Tailors may be used to dealing with all kinds of body shapes, but he was no regular customer – not least because he was only six inches tall and had three arms. For our Handmade project, directors and artists Lernert & Sander took the title literally, with a proposal to work with Italian masters of the cloth Brioni to outfit a hand in the finest bespoke tailoring and make it the star of a promotional short.

'It was too big a project for most bespoke tailors, in that it was too intricate and time-consuming,' says Lernert Engelberts, one half of the Amsterdam-based duo. 'But Brioni had such a sizeable handmade operation, it said it could handle it. The idea was to test the tailors, to see if they could make a suit to their usual standard on such a small scale without it ending up looking like a Ken and Barbie outfit.' As Sander Plug adds, based on their experience of visiting the Brioni factory in Penne, Abruzzo, they knew that bespoke tailoring was, in large part, about clever cutting to compensate for lopsided shoulders or middle-age spreads. 'But a hand is very definitely not symmetrical, so the suit was never going to drape easily,' he says.
Angelo Petrucci, Brioni's chief master tailor, concedes that while they try to 'fulfil every kind of request for our customers' and 'dress men from the smallest to the biggest – some even the size of sumo wrestlers', when it came to fitting a hand, it was 'the first time' (hand dressing is a very niche business).

The result, however, sees the appendage finely turned out: a single-breasted, one-button, fully canvassed, wool hopback suit with notch lapel, flap pockets, ticket pocket and – this being an Italian job – narrow trousers. A blue shirt and fancy bow tie finish off the outfit. 'It was a little bit hard for me to create a small suit that could also be elegant in terms of fitting and style for this particular "gentleman",' says Petrucci. 'But I consider my little handmade suit an absolute artwork'.
The film, what is more, brings humour to an industry – fashion – that can sometimes be devoid of it. As the Dutch duo point out, this is all the more strange given what an effective means of communication humour is, especially in the viral, online world. But, as Engelberts notes, 'If you're asking €800 for a T-shirt, you can't do it with a joke.' Plug adds: 'The fashion world takes its own creativity so seriously, with everybody so afraid to have an opinion. That's why Brioni was so bold in taking the idea on. You need to have a certain confidence about what you do to be able to joke about it.'

In the film we see the making of the suit, but also the smart-dressed digits strike a pose or three. 'We wanted to use a male model – well, a male hand – but pose it as a female catwalk model, and go for the super clichés of fashion poses, too.' With an ironing board as his runway, our little headless friend puts his hand on his hips, stands with one leg askew, even casually props himself up on one 'elbow' while laying on the floor. 'Ideal for that double-page spread,' notes Engelberts.
'The hand had to be cute, but also have attitude – in fact, some of the original poses were too just hilarious to keep in,' says Plug. 'Brioni has a serious reputation for making serious suits for serious businessmen. They don't need humour to sell what they do, but it's a refreshing approach for them.'

It's a potentially effective one, too. With more and more fashion photographers now making the transition to film from still photography, the sector is already over-saturated. As Stephen Whelan, executive producer at White Lodge, the production company responsible for making the Brioni film, says: 'With the competition of things to watch so great now, you have to earn people's attention. Doing something unexpected is one means of doing that, but humour, in particular, benefits fashion because it's inclusive and so can reach beyond its usual audience.'
Petrucci adds that, in the case of Lernert & Sander's film, the humour goes further still, underlining the very nature of bespoke tailoring in a better way than would have been the case if a conventional model had been used. With bespoke tailoring's ethos of approaching every garment 'as a single, one-off piece, the film's special protagonist is an innovative way to show the uniqueness of the tailoring experience', he says – even if that tailoring is for a palm, four fingers and a thumb.

However, the experience of filming the little bespoke Brioni suit hasn't quite converted Lernert & Sander – who have worked with fashion labels Kenzo and Viktor & Rolf before – into wearing suits themselves. 'We both really like shirts, but suits are more for film producers or financial people,' says Plug. 'Besides, we have this idea that if you wear a suit, then you really have to work.'

'That said,' adds Engelberts, 'working with Brioni has made me look at cheap suits in a new light – and I certainly won't be buying one of those now.' §
As originally featured in the August 2012 issue of Wallpaper* (W*161)
INFORMATION
Receive our daily digest of inspiration, escapism and design stories from around the world direct to your inbox