Splinter cell: the making of John Hogan and Lasvit's 'Field' chandelier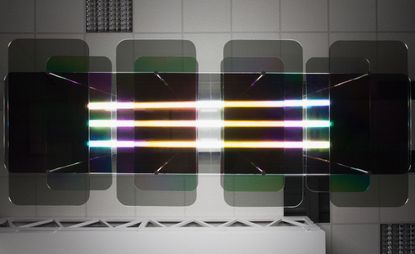 (Image credit: Jakub Skokan)
Born and raised in Toledo, Ohio, the home of America's studio glass movement, John Hogan started blowing glass in high school when he was just 15 years old, but says he still has much to learn. 'I'm always experimenting and trying to push myself in new directions,' says the Seattle-based designer, who is known for his captivating glassworks that play with colour and light. 'I think that ten lifetimes wouldn't be enough to really explore the boundaries of this material and the endless potential of using light. I feel like I'm just at the beginning of becoming an expert.' This insatiable thirst for knowledge explains why, when invited to create a light for Hotel Wallpaper*, Hogan seized on the opportunity of creating something on a scale he had not tackled before.
'I wanted to stretch myself a little bit and make something that was totally new for me, and hopefully new for lighting design as well,' says Hogan of his spectacular 'Field' chandelier, which was created in close collaboration with Czech glass brand Lasvit. Having met the brand during a sojourn in the Czech Republic three years ago, Hogan knew of the studio's capabilities and had wanted to work with them ever since.
The design for the 'Field' chandelier followed an intense period of research into polarising foil – optical films that allow light oscillations to be shifted from 360 degrees into one direction. 'It's something I knew nothing about before I started the project,' confesses Hogan, who set about sourcing as many different types of polarisers as he could lay his hands on in Seattle. 'There are several different types – linear, circular, quarter waves. I feel like I know a little bit about it now, but you have to have a degree in physics to really dive in.'
He began a series of complex experiments that led him to a simple solution. Instead of using multiple foils, Hogan found that the most fruitful results came when he created compositions using just linear polarisers.
By applying the foil to panes of glass placed perpendicular to each other and suspended at three different levels, Hogan created a chandelier that splits the light waves as they shine through the glass from above, causing different colours to appear as the viewer moves around it. In contrast to Hogan's previous projects that have seen him work with dichroic and iridescent glass, where the colour is inherent in the material, the 'Field' chandelier is the first time Hogan has created colour through filtration.
'The idea was to try to make a chandelier that taught the viewer something about the way that light acts,' says Hogan, who worked with a small team of craftsmen at Lasvit to bring his Seattle-made prototype to life on a much larger scale. Working within a three-month window, the planes of glass were water jet-cut, polished, drilled, coated with the polarisers and then suspended from the ceiling on polished metal rods. The result is a mesmerising piece of light sculpture that offers its viewers a lesson in the physics of light. 'There are about eight different colours that you can see,' says Hogan. 'And they all change as you move around the piece. Then when it's turned off, it turns grey. Like all of my work, it's about paring things down and trying to bring people's attention to the beauty of light.'
As originally featured in the August 2016 issue of Wallpaper* (W*208)
See more from Handmade here and check in to Hotel Wallpaper*…
INFORMATION
For more information visit John Hogan's website and Lasvit's website
Photography: Jakub Skokan