The highlights and hidden gems from Vienna Design Week 2014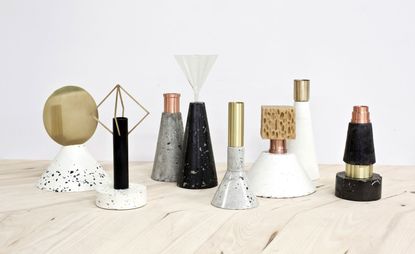 (Image credit: press)
Design groupies seek to make sense of all those design festivals (and justify all that travel) by finding originality in each city and its creative community. They might see Vienna Design Week as being large enough to lure a heavyweight roster yet still small enough to offer an authentic, local feel.
The eighth edition (opens in new tab) of the design fair - together with Viennafair (opens in new tab) and the Parallel art fair (opens in new tab) - ended last Sunday, after offering Austrians and their neighbours, who made up most of the visitors, a creatively rich week in the capital. True to its reputation, it mixed up the calendar with showings by newcomers and veterans, national to international, and with passions ranging from heritage to contemporary, from everyday design to collectable art.
Curated by Lilli Hollein, director of Vienna Design Week, the Passionswege (Paths of Passion) exhibition at the heart of the festival showcased contemporary innovations with traditional craftsmanship. This year's event saw Wiener Silber Manufactur (Vienna Silver Factory) and BIG-GAME, a Swiss design trio, create the Hammer lamp, the historic silversmith's first lighting design. Boaz Cohen and Sayaka Yamamoto of Dutch collective BCXSY created J(oy) & L(ove) wine tumblers for J&L Lobmeyr, a glassworks with a workshop in central Vienna. It was inspiring to see one craftsman work on a contemporary concept while another recreate an 18th-century chandelier for the Liechtenstein City Palace.
Sotheby's hosted Austrian-Polish design duo Chmara.Rosinke, who displayed works in a private space at the Palais Wilczek. Viennese gallery Design & Art showcased a new collection by local ceramic artist Matthias Kaiser, which explored shifts in form by replacing conventional materials with plastic - and vice versa. Design practice Dottings solicited creative input from its local peers, including mischer´traxler (opens in new tab), Vandasye and Madeleine Plass. Together, they worked with people with physical disabilities or mental illness to develop charming household objects.
Elsewhere, the festival used design as a means to explore the city's culture and traditions. Lucy.D (opens in new tab) curated a delicious collection of contemporary cakes for Café Landtmann (opens in new tab), a popular meeting place in the first district opposite the Burgtheater and patronised by leading politicians, thinkers and artists for more than a century. The outrageous assortment of cakes and pastries could be customised to personal tastes. In the third district, at the back of Parfumerie Leni, the alternative art space SWDZ presented Ritual Beauty, featuring 'The Alchemist's Dressing Table' by British designer Lauren Davies and a series of experimental hand mirrors by Viennese designer Andreas Pohancenik.
We unearthed two hidden gems at the festival headquarters, located at the monumental Palais Schwarzenberg (opens in new tab). The palace's legendary - but neglected - restaurant rooms by Austrian architect Hermann Czech were reopened to the public before the complex is ultimately remodelled. Also at Schwarzenberg was Soundweaving, a project initiated by Budapest's Monoly-Nagy University of Art and Design. Participants transformed the traditional motifs of cross-stitch embroidery into melodies by transposing them through a music automat with punch cards.
Our final stop was an unexpected highlight. Supersense, the new concept store by Florian Kaps, founder of The Impossible Project (opens in new tab), exhibited a story of modern innovation in analogue Vienna. Kaps is working with the Norwegian olfactory icon Sissel Tolaas to offer clients bespoke scent memories, which he plans to launch at the store in November. That alone is a good reason to return to the city before next year's fair.