A 19th-century former crispbread factory and residence showcases new designs at Stockholm Design Week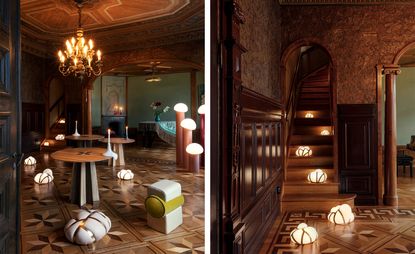 (Image credit: Färg & Blanche)
I have been thinking about doing something like this for more than 10 years, since the day I moved to Sweden,' says Emma Marga Blanche, one half of French-Swedish design duo Färg & Blanche, about the upcoming exhibition in her great-great-grandfather Julius Westerdahl's former home during Stockholm Design Week. With a head for business and a secret recipe for a unique crispbread, Westerdahl became a rich and prominent man in the city, eventually putting up a magnificent building in the Swedish capital's Södermalm district in 1889 that housed his residence but also a factory.
'The Baker's House' installation by Färg & Blanche opens on 5 February and will take over the entrance and two floors of the elegant building, including the so-called 'parade' apartment on the 4th floor (the most lavish series of spaces that would also have been used for events and that has now been transformed into a foundation).
The duo will show 12 new objects and furniture pieces such as lamps, stools, a table and candlesticks and display them among the antiques, drapes, chandeliers and opulent interiors of the 19th-century home along with a selection of other items designed by Färg & Blanche that have a connection to the house, such as the 'Julius' armchair and sofa series made for family-owned furniture-maker Gärsnäs.
RELATED STORY
Lighting by Färg & Blanche inspired by the shape of crispbread

'All the new pieces are inspired by the house, it could be from a detail of the architecture, the beautiful star-patterned inlay parquet floor, or by our family history and the bread factory,' explains Blanche. Opening up the house and using it as a theatrical setting for their work is a very emotional experience for the pair, but especially for Blanche.

'I grew up in France, but every time I came to Sweden for the holiday I lived in this house. You can't imagine everything my family experienced in the house for over five generations... I really hope that the people who come to the exhibition will understand and feel how special it is.'

Stockholm Design Week will be a busy time for Färg & Blanche, who will also be announcing a collaboration with major lift manufacturer Aritco. It seems fitting that after transforming a beautiful old home, the pair will be turning their focus on to the creation of a limited-edition home lift. Still in the development stages, it will incorporate the original and richly crafted elements the designers are well known for. Watch this space.
INFORMATION
'The Baker's House' is on view 5-9 February for private bookings only during Stockholm Design Week. For more information, visit the website (opens in new tab)