Stockholm Furniture Fair 2013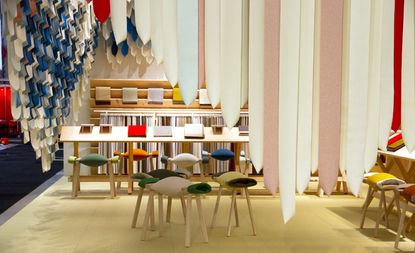 (Image credit: Raw-Edges)
Stockholm Furniture Fair (opens in new tab) may have had a big leaning towards office design this year, offering up and abundance of wooden conference tables, chairs and sound-proofing devices - but our top-scoring stand was rather more whimsical. UK-based design duo Raw-Edges created a 'Picnic' installation for Danish brand Kvadrat (opens in new tab), evoking a forest atmosphere in the midst of the trade fair.

Over a thousand swatches of 20 different Kvadrat fabrics hung from a wooden structure of Dinesen (opens in new tab) Douglas Fir, cocooning the stand like a weeping willow. This made for an inviting place to ponder the brand's new launches. Meanwhile, over in its showroom in town, Kvadrat had another hit with The Wool Parade (opens in new tab), an installation of Bauhaus- and theatre-inspired shapes by Doshi Levien (opens in new tab) upholstered in woolen fabrics, which also became characters in an animation by Studio AKA (opens in new tab).

Another highlight at Stockholm Furniture Fair (opens in new tab) was the central meeting hub, conceived by Wallpaper* Design Award 2012 (opens in new tab)-winner Nendo (opens in new tab). White-framed structures were interspersed with a new outdoor seating collection, as well as older pieces by Nendo, all in shades of white - echoing the snow-covered landscape of Stockholm. Nendo first showed at Stockholm Furniture Fair's 'Greenhouse' - its annual hot house for independent designers and schools - in 2004, so the fair was happy to welcome back founder (and Wallpaper* Design Awards 2013 (opens in new tab) judge) Oki Sato as its guest of honour.

This year's Greenhouse proved as full of green shoots as ever, with a particular highlight being the work of Grand, which has produced a beautiful collection of basket-woven cupboards. An equally pleasing vase set came courtesy of Hallgeir Homstvedt (opens in new tab).

Elsewhere, the fair was awash with pastel hues, pale woods and metal fixing details. We particularly liked the collaboration between Wästberg (opens in new tab) and Dinesen, who created a beautiful and solid collection of wooden seating and low tables that sat in harmony with the new Wästberg hanging lamp.

Of the satellite events elsewhere in Stockholm, the talk of the town was Svenskt Tenn (opens in new tab), whose window gallery room was a delight. It offered up Joseph Frank designs re-interpreted by the very refined hand of Michael Anastassiades (opens in new tab). But the design week's hottest ticket was the Wallpaper* and (opens in new tab)SodaStream (opens in new tab) Lock In (opens in new tab) party at the recently renovated Spirits Museum, the first in a series of soirees tied to the international fair agenda.