Bench press: designers put a new spin on public seating in Sweden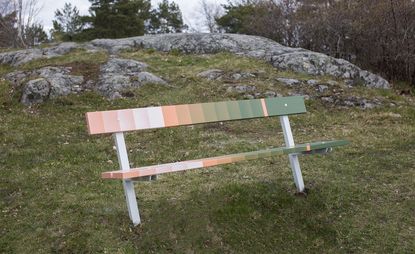 (Image credit: Jezzica Sunmo)
The setting: an undistinguished Swedish town park outside Stockholm. The project: to create an installation of 'Superbenches' by tend leading designers as part of a wider urban development programme in the area of Järfälla, one of the country's fastest growing municipalities.

The idea behind Superbenches – curated by Felix Burrichter, the New York-based German creative director and founder of architectural magazine PIN–UP – is to involve the local people through the installations and give them a voice in the plans for the area's future housing and landscaping programme. In doing so, he has made an eclectic mix of design practices reconsider the concept of the traditional park bench while retaining its basic function of providing an urban setting to meet, relax and be inspired.

The benches could either be upgraded existing versions or entirely new ones. 'I wanted the group of designers to be varied in how they approach the idea of what a bench is – and what it could be. They're a pretty heterogeneous group, with different cultural backgrounds, and I think that is reflected in the different bench designs,' says Burrichter. 'These benches are also thought of as mini social incubators, allowing people to come together, and develop a sense of community and pride in a park that up until recently was kind of forgotten and neglected.'
Italian architect Luca Cipelletti's 'Primordial' bench employs the Giga Bricks concept he created for The Shit Museum – think a sustainable clay-composite of processed, odourless cow dung. 'The idea is to build a new archaeological find, a ruined architecture formed with a primordial material which brings together the principles of transformation and environmental sustainability, introducing a new relationship between objects and users,' he explains.

The London-based design practice Soft Baroque – helmed by Saša Štucin and Nicholas Gardner – has created a polished stainless-steel bench mounted on spring feet, a slick grown-up version of a playground toy. 'We wanted to create something that can physically communicate with the visitors,' they say.

Other names include Dutch duo Scholten & Baijings, who redesigned five existing benches on site to create a dialogue with the colours of the surrounding area; Philippe Malouin's offering aims to revitalise the interaction between the people and the neighbourhood; Max Lamb continues his site-specific approach with a chair using materials found on location. They are joined by the likes of Chinese designer Naihan Li; Märta Hägglund and Sanna Gripner from Sweden; New Yorker Leon Ransmeier; Jonathan Olivares from Boston; and Nigerian designer Ifeanyi Oganwu.

Next year, locals will vote for their favourite designs to be made permanent fixtures as a true testimonial to the designers' concepts.
INFORMATION
For more information, visit the Kalejdohill website (opens in new tab)
ADDRESS
Kvarnbacken
Jakobsberg
177 64 Järfälla
VIEW GOOGLE MAPS (opens in new tab)
Yoko Choy is the China editor at Wallpaper* magazine, where she has contributed for over a decade. Her work has also been featured in numerous Chinese and international publications. As a creative and communications consultant, Yoko has worked with renowned institutions such as Art Basel and Beijing Design Week, as well as brands such as Hermès and Assouline. With dual bases in Hong Kong and Amsterdam, Yoko is an active participant in design awards judging panels and conferences, where she shares her mission of promoting cross-cultural exchange and translating insights from both the Eastern and Western worlds into a common creative language. Yoko is currently working on several exciting projects, including a sustainable lifestyle concept and a book on Chinese contemporary design.