Shifting perspectives: from Nendo to Naihan Li, a survey of Asian design opens at M+ Hong Kong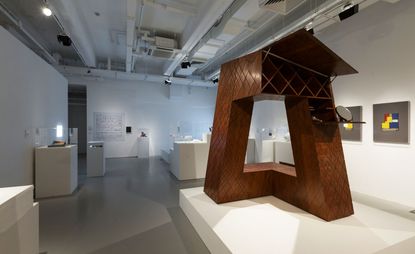 (Image credit: Courtesy of Gallery ALL and Li Naihan, M+ Hong Kong)
With its debut design exhibition open now, Hong Kong's M+ presents an intriguing selection of 120 pieces of 20th and 21st century design, offering a tantalising glimpse of the museum's impressive wider collection of some 2,500 works.

The initiative is designed to stimulate thinking about how perspectives on design change across time and geographical space. With this in mind, the show neatly sidesteps any expectations of presenting an encyclopaedic range of iconic design, and instead focuses on delivering a tightly edited collection of familiar household items. These include the woven, plastic-covered rattan chairs ubiquitous to homes in 1950s Hong Kong, through to design classics such as Nendo's 'Cabbage' chair, constructed from recycled, sliced and folded rolls of paper.

According to the M+ lead curator of design and architecture Aric Chen, the compact 310 sq m gallery called for especially close collaboration with Hong Kong-based studio Collective, whose well-lit, intuitive layout opens with 'Histories', a series of spaces examining design across Asia, including Japan's post-war reconstruction period, post-independence nation-building in India, collectivisation in Mao's China, and Hong Kong's manufacturing heyday. The highlight is a masterclass in sculptural simplicity, in the form of a modernist low table and legless chairs designed by Isamu Kenmochi in the late 1960s.
The second part of the show, 'Constellations', presents an eclectic mix of more recent works including Kuramata Shiro's whimsical 'Miss Blanche' resin and flowers chair, intriguing 'Fragments' vases by Hong Kong-based potters Latitude 22n and a monolithic wardrobe by the Chinese designer Li Naihan, inspired by Rem Koolhaas' Beijing CCTV Headquarters tower.

'The show is not about telling you what design is, it is about letting you discover that there is more than one way of seeing the same thing,' says Chen. The M+ Pavilion is the first permanent space on the West Kowloon site; the main museum building designed by Herzog & de Meuron will open in late 2019.
INFORMATION
'Shifting Objectives: Design from the M+ Collection' is on view until 5 February 2017. For more information, visit the M+ website (opens in new tab)
ADDRESS
M+ Pavilion
West Kowloon
Hong Kong