The Lost Graduation Show allows young talent to shine
Wallpaper* talks to curator Anniina Koivu about The Lost Graduation Show, her Supersalone showcase of 170 graduate projects, empowering a new generation of designers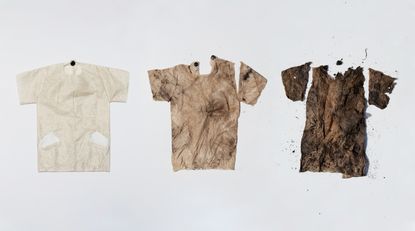 (Image credit: © Benjamin Bichsel)
The name itself is evocative: 'The Lost Graduation Show'. Considered one of the most anticipated exhibitions at Supersalone, the event curated by Anniina Koivu showcases around 170 projects by students from all around the globe, who graduated between 2020 and 2021 – in many respects, two lost years for a new generation of designers that were not able to physically show their work to the industry or the public.
A first for Salone del Mobile, the idea to give these graduates a platform inside the fair attracted hundreds of schools from 59 countries, which responded to the open call. 'The original open call was for final prototypes, or prototypes that the general public could understand, not just renderings or technical projects, and I think we succeeded very well in showing these ideas in a very physical and feasible way,' says Koivu.
The Lost Graduation Show: projects that inspire
The projects span from a portable kit for refugees, to clean reusable menstruation pads, and a street lamp with an insect-friendly light spectrum; from toys for children with sensory needs, to a forgotten textile craft from a pre-Partition India, and an interactive installation on the price of death in every nation in the world.
RobustNest, a portable incubator for new-born babies in sub-Saharan countries, won one of the the Best of Class 2020/21 Awards, together with a single-material syringe, and a new use of oyster shells, among others: 'I think that the jury looked very carefully for projects which go beyond ideas,' Koivu says.
Empowering grad students while giving them such a platform made Koivu reflect on three specific directions: 'First, we cannot necessarily speak any more about nationally located design, because the topics that the designers are touching are universal and global. Second, because of the pandemic, young designers didn't have access to production facilities and it has been more difficult for them to get into the design industry, so they had to show a very positive proactive attitude. Third, a crisis can be a very positive trigger for rethinking things and for new, innovative ideas.'
INFORMATION