Rock steady: Max Lamb's new marble furniture on show at Johnson Trading Gallery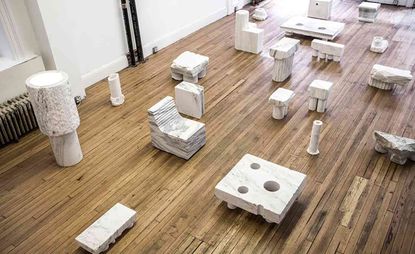 (Image credit: Sammy Gluckman)
Those familiar with Max Lamb's designs—created as functional furniture that double as sculptural pieces of art— will know that they are as much about the process as the finished product. Such is the case with the designer's latest body of work Man, Rock, Drill, which makes its debut at the Johnson Trading Gallery in New York City this week. The 26-piece marble collection started with the conceptual idea of a man in a van with a drill, looking for stone.

'For this collection, I wanted to work in a more independent way. I still have to collaborate; I still have to find the materials, so I have to find the quarry, but I wanted to do all the work myself,' says Lamb, who completed the collection—made with marble from one single quarry in Danby, Vermont—in less than a month.

Lamb's process – which included recently purchasing a core drill to make this exercise independent possible – began a month earlier when he landed in NYC, loaded his equipment into a van and drove to Vermont. He then spent the next three weeks making friends with the quarry workers and choosing the stones that would ultimately become the collection. 'This process was so enlightening as to what I could physically manage myself… and it was just me, a drill, and some wooden rollers,' explains Lamb.

Using marble was a departure for the designer, who usually works with more common materials like sandstone, limestone and granite. 'I had sort of stayed away from marble. But if I could bring back an honesty to the object and a lack of refinement in a way, then I could make marble not seem super luxurious—that's not what I want,' says Lamb. The range of pieces, which Lamb designed and created based on each stone's characteristics, are sanded but left unpolished, playing to that lack of refinement that Lamb was seeking. 'These will be around forever, and they've already been around for 3 million years. It's just now they look a little bit different,' says Lamb.
INFORMATION
Man, Rock, Drill is on view till 15 December. For more details, visit Johnson Trading Gallery's website (opens in new tab)
ADDRESS
Johnson Trading Gallery
72 Franklin St
New York
VIEW GOOGLE MAPS (opens in new tab)