Johnson Trading Gallery's new LA outpost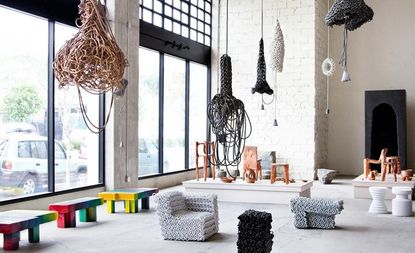 (Image credit: press)
A steady stream of galleries and design boutiques has been colonising Los Angeles' once seedy Hollywood district over the last few years, pushing out the porn shops and establishing the area as a new creative hub. New among them this week is an LA branch of Johnson Trading Gallery - a big player on the New York design-art scene - which has just opened on the ground floor of the vast JF Chen building, one of the largest antique and vintage furniture stores in the city.

The gallery's new LA outpost takes JF Chen into uncharted territory - this is its first substantial venture into contemporary design. The inaugural exhibition, titled Superba, is a joint proposition, showcasing the work of leading designers from the Johnson Trading Gallery stable, including Simon Hassan, Kwangho Lee, Max Lamb and ArandaLasch, alongside a ream of JF Chen designers and artists. Among the pieces, expect new amorphous 'Poly' pieces from Max lamb and more spiralling, woven lights and furniture from Kwangho Lee.
Johnson Trading Gallery was established by Paul Johnson in 2007, who honed his collector's eye while heading up Phurniture Inc, and it has quickly become one of the bastions of contemporary design in New York. Rubbing shoulders with antiques stores like Reform and
http://www.blackmancruz.com/home.php" target="_blank" >Blackman Cruz, it's set to do the same in LA.
Address
Johnson Trading Gallery at JF Chen
941 North Highland Avenue
Los Angeles