RH bets big on new designer collaborations
This month, RH launches RH Contemporary, a new branch of its business featuring collaborations with global designers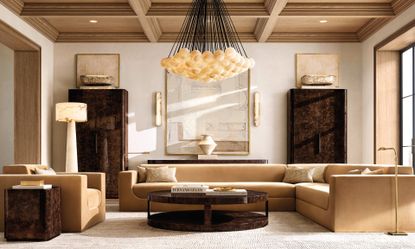 (Image credit: press)
RH is welcoming a host of global designers to join the RH roster, including Ryan Korban (New York), Joris Poggioli (Paris), Neeru Kumar (New Delhi) and Dina Nur Satti (Brooklyn), alongside existing RH collaborators Ann Marie Vering (Los Angeles), Victoria Sala (London), Nicholas and Harrison Condos (Sydney), Jonathan Browning (San Francisco), John Birch (New York), Piet Boon (Amsterdam), and Jan te Lintelo (The Netherlands). The occasion is the launch of RH Contemporary, which spans from large furniture including sofas, beds, wardrobes and outdoor furniture to lighting, textiles, and decorative objects.
RH launches RH Contemporary
This is the biggest concept RH has launched since it introduced RH Modern in 2015, and compounds the company's growth aspirations, following the unveiling of RH San Francisco in the historic Bethlehem Steel Building, two private planes and a private yacht (all available for charter hire) and a series of upcoming openings: Manhattan's RH Guesthouse; locations in Oxfordshire (RH England at Sir John Soane's Aynhoe Park in Oxfordshire), Paris, London and Milan; and a full 'RH Ecosystem' in Aspen including the company's first spa.
The launch was underway prior to the pandemic. 'We decided not to chase revenues and chase demand during that period. We said, "Why don't we use this time in a much more strategic way and focus on moving some really big rocks that will set up the next decade of growth at our age?" And that's what we did,' says Gary Friedman, RH chairman & chief executive officer.
Notably, RH Contemporary makes a multi-tiered approach to elevating production and materials. An emphasis on fine fabrics inspired a partnership with Holland & Sherry, the 1836-founded Savile Row tailor, which will supply an extensive range of textiles for upholstery and curtains. Additionally, Indian hand-loomed throws and pillow covers by textile artist Neeru Kumar are of a high calibre: the Victoria & Albert Museum has acquired her work.
Many of the RH Contemporary pieces are made in Italy – namely the upholstered furniture, including the 'Burano' modular leather seating by Jan te Lintelo and the low linear sofas by Ann Marie Vering. To accomplish this, RH onboarded expert Italian upholsterers: ALT in Romagna and Crivellari in Padova. (The founders from each company are photographed and credited on the RH website, with the same reverence as the designers). Italian-sourced materials are also used prevalently, such as travertine stone from a quarry outside Rome and Arabescato marble, although these pieces are fabricated elsewhere.
The impact of focusing on top-tier materials and production (lacquered burl wood, hand-carved Spanish alabaster, hand-applied plaster on lighting) is reflected in the price tags: higher price point items include Jonathan Browning's 'Vouvray' two-tier round chandelier, made from solid brass cast in a hand-formed mould, starting at $35,246, and the 'Vitolo' carved rectangular dining table by Joris Poggioli in solid travertine or marble, starting at $12,595. Friedman explains that RH Contemporary is about 30 per cent to 35 per cent higher in price than the current RH offering.
While large-scale furniture is the core offering, smaller shoppable items are included: Brooklyn-based up-and-coming ceramicist Dina Nur Satti, brings her Sudanese and Somali heritage into her vases and decorative dishes.
'We believe Contemporary is like almost a new company within the company,' says Friedman. 'Modern really moved the business massively and kind of changed the game for RH and opened up the aperture of the market for us. Consumers saw us entirely differently. I think Contemporary will have a bigger impact on this company than Modern, and not just from a design point of view but from a quality point of view.'
INFORMATION
RH.com (opens in new tab)
Tilly is a British writer, editor and digital consultant based in New York, covering luxury fashion, jewellery, design, culture, art, travel, wellness and more. An alumna of Central Saint Martins, she is Contributing Editor for Wallpaper* and has interviewed a cross section of design legends including Sir David Adjaye, Samuel Ross, Pamela Shamshiri and Piet Oudolf for the magazine.