In-room perks: Ace Hotel's experimental designer collaborations at LDF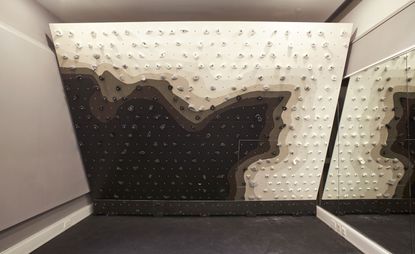 (Image credit: Jorn Tomter)
Following on from its inauguration last London Design Festival, Ace Hotel London and Modern Design Review are back for their second round of hotel design essentials in 'Ready Made Go 2', offering even more experimental undertakings to enhance experiences at the boutique hotel.

Initially employed to solve the many problems with hotel amenities and design, last year saw innovative forms from the likes of Tomas Alonso and Philippe Malouin. For 2016, the collaborators have invited Jochen Holz, Assemble, Patternity, Studio Silo and Faye Toogood.

Cladding the seventh floor bar are Assemble's smokey 'BBQ' tiles made in collaboration with Granby Workshop. Realised using traditional smoke firing techniques to decorate each unique piece, the finish appears as an abstract artwork on the front of the bar. Meanwhile, bringing fun to the hotel gym is Patternity's gradient 'Ascension' climbing wall that channels their pro-pattern aesthetics while giving the sport a graphic and refined new level of sophistication.

From the smaller items, Holz's 'Amorph' drinking vessels in borosilicate glass are set to go in the hotel's new in-room cocktails service, while Studio Silo's architectural aluminium 'Beam' soap dishes will flourish their bathrooms. Elsewhere, Faye Toogood's 'Doublet' quilt is inspired by the gambeson technique in her fashion collections and challenges the traditional simplicity of bed linens with intricacy and armour in the padded style.

Running from 20-25 September, Ready Made Go 2 will certainly raise the bar for those Hotel perks we all dream of.
INFORMATION
Ready Made Go 2 runs till 25 September. For more information, visit the website (opens in new tab)