Social enterprise: Assemble launch Granby Workshop furniture range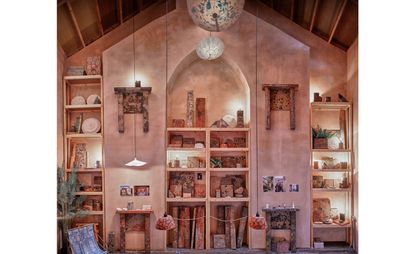 (Image credit: Assemble)
A London-based architecture, design and art collective has launched a range of furniture and household items as part of their creative transformation of a derelict Liverpool housing estate. The 15 members of Assemble (opens in new tab) set up the Granby Workshop as a social enterprise through their nomination for Turner Prize 2015 (opens in new tab). Hand-made products in the range include block-printed fabrics, ceramic tiles, furniture made from deliberately-burnt timber, marbled lampshades and cabinet handles.

The selection reflects pieces that were stripped out of Victorian terraced homes in Granby, when they were boarded up by the council in preparation for demolition. However, local campaign group Granby Four Streets, fought to save the few remaining properties. In 2011 the group secured ten empty houses for renovation into affordable homes. Assemble has since teamed up with these local campaigners not only to help them transform the remaining houses into homes, but to set up this social enterprise.

The Granby Workshop operates on a crowd-funding model, and trains and employs local people in experimental manufacturing processes, with profits going back into the business. Some of the most appealing designs are the Sawdust Ceramic Handles. These clay knobs are 'individually wrapped in tin foil, buried in a barbeque filled with sawdust, set alight and smoked for 12 hours,' according to Assemble.

Meanwhile the squat and sturdy Granby Rock Table has a table-top made of demolition and construction waste - red and yellow brick, slate and stone - polished smooth. The same process has even been used to make mantle pieces. The five block-printed fabrics, some of which have a subtle asymmetry, are also very pleasing. Pre-orders can be made during the Turner Prize exhibition, whose winner will be announced on 7 December. Production of the range will begin in early 2016.
INFORMATION
Photography: Assemble