Philippe Starck reflects on what makes a successful furniture brand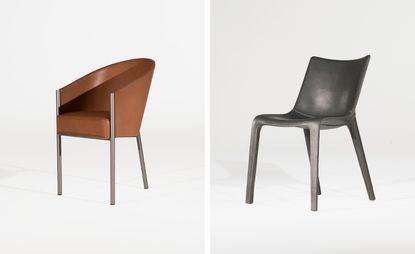 (Image credit: Philippe Starck)
Think of the Italian company Driade and its hard not to also think of Philippe Starck, the designer has been one of the most pivotal figures in its success having worked for the brand – now entering its 50th year – for over 30 years. During this year's Salone del Mobile, Wallpaper* had the opportunity to sit down with the French designer to discuss his successful longstanding partnership with the Italian behemoth.

'Its an old story, a very old story,' says Starck of his shared sensibilities with Enrico Astori, the founder and art director of Driade. 'Enrico was an incredible person; an angel, a dreamer, a thinker, and a philosopher. He was the most poetic person I ever met in my life, except my wife of course'.
As is the case with many of the family-owned Italian furniture brands, the creative relationship between manufacturer and client thrives when the professionalism and quest for design innovation is also fuelled by genuine passion and an emotional investment. Driade and Starck clearly found their match as the Frenchman says of his collaboration with Astori: 'to work with him was more than work, it was like a love affair, it was very elegant. For me, it was not about products, but about the person himself and the family behind it.'

To celebrate this synergy Driade looked back into the archives and decided to reinterpret some of its most prolific designs by Starck. For example, the highly technical Miss Lacy chair (originally designed in 2007) has been realised in a limited edition copper version: 'we made it pink because it's the colour of love,' says Starck.
'When I started working with Driade it was a very small company, producing very high quality pieces but very small.' Starck continues. In a way the brand and Starck have grown together, now Driade is also a global success working with a fleet of stalwart designers including Fabio Novembre, Enzo Mari, Patricia Urquiola and Ron Arad.

Driade also tasked Starck to give new life to the Costes chair, originally a mahogany model made for legendary Hotel Costes café Paris. Made in 1985, this marked the start of Starck's collaboration with the Italian brand, and now the functional bistro chair has been given a luxurious leather finish. 'When I first designed it, there was no money or technology,' Starck muses. 'It was a piece of folded wood and a piece of tube, and that's all. It purely functional.'

The final re-edition to further anchor the French designer's influence in the brand's DNA is an ode to the plastic Lou Read Family: a version of the Lou Eat dining chair without arms.

While reminiscing about the past, we took a moment to find out what the future holds for Starck: 'the only thing that is important to me is ecology, sustainability and affordability, and still democratic design. Although we have definitely won the battle, we have about five more years to win the war.'
INFORMATION
For more information, visit the Driade website, and the Philippe Starck website