How Philippe Malouin turned wobbly line drawings into a rug design
This rug design is the result of imperfections and glitches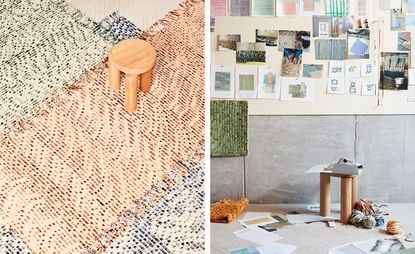 (Image credit: Omar Sartor)
'I draw badly, and I used that as my initial starting point.' London-based Philippe Malouin has turned his weakness into a rug pattern for cc-tapis – his first two-dimensional product design. 'I actually had a very functional approach when it came to my requirements for a rug. I wanted it to be comfortable like a pile rug, yet, be architecturally sound like a flat weave.'

Malouin's idiosyncrasies is was what drew cc-tapis' art director Daniele Lora to his work, especially when she was planning for the Milan-based brand's 2020 collection. 'I immediately thought that his style could play a strong part of what we had in mind.' For the Lines rug, Malouin took this wobbly sketching of straight lines further by using wax crayons to accentuate the flaws – 'it also left an irregular deposition of pigment onto a clean page of paper'.
When taken off paper, the artwork is identifiable through the distorted pattern and colours that fluctuate in tone – an effect which Malouin says was hard to achieve when translated to wool. 'This was ingeniously solved by Daniele Lora by coming up with the idea of dip-dying bunched wool yarn before knotting it,' he says.

This nifty dying technique for the Himalayan wool was paired with Tibetan craftsmanship that takes place in the production facility in Nepal in a performance of trial and error – 'rather than printing lines we wanted to have a more natural and imprecise effect that came after many trials of dyeing the raw material and that could only be achieved through hand-knotting.'
The Lines rug is part of cc-tapis' digital launch of Gesture – a project that looks at 'how the motion of hands and tools can quietly lead the creative process, creating entirely new aesthetic languages.' In addition to Malouin, Lora and the team invited Sabine Marcelis, Mae Engelgeer, Yuri Himuro and Patricia Urquiola to realise designs too.

'We always start by making things,' Malouin explains of his creative operations. Lines has a process full of glitches and abnormalities, which would usually be tossed away, but here they were turned into something beautiful and functional.
Watch Philippe Malouin take us through the process
INFORMATION