Hot sheets: paper turns over a new leaf in Tokyo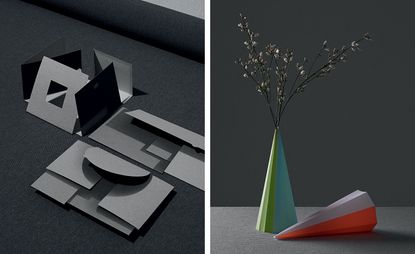 (Image credit: Philippe Fragniere)
Since 2006, a small Japanese printing company called Fukunaga Print has been exploring the seemingly endless possibilities of paper. Helped by a steady flow of young local talent, CEO Akiyoshi Yamada's creative curiosity and love for the material has transformed this small printing shop on the outskirts of Tokyo into a fun-loving paper laboratory.

Wallpaper* first met Yamada late last year, at the tenth anniversary exhibition of Kami No Kousakujo, the collaborative project he set up to bring together designers and producers to make innovative paper products (the name roughly translates as 'paper-making shop'). The project produces a new collection each year and for the latest iteration, ten local architects, graphic and product designers were asked to come up with ideas around the theme of 'weight', with typically imaginative results. Shown at the Living Motif design shop in the Axis Building in Tokyo, the exhibits were arranged on simple plywood boxes with tabletops made from what looked like large slabs of paper.

Architect and designer Naoki Terada reimagined Japanese kamifusen (children's toy balloons made from coloured paper), creating semi-transparent polyhedrons for his 'Platonic Solid Paper Balloons'. Five different polyhedrons come pre-cut and pre-embossed in flat sheets that need to be assembled with glue – a hands-on approach seen in many of Kami No Kousakujo's products. In reference to the project's tenth anniversary, each polyhedron is designed to fit within a 10cm diameter sphere.

The 'Stay' paper container, by jewellery designer Akiko Oue, is a simple paper bag on a heavy carton base, enabling the bag to stand upright. It can be used for storing fruit and veg, laundry or as a bin. The grey or white paper bags can be folded or cut to adjust the size of the container. Other pieces in the collection include fold-it-yourself wall shelves by Torafu Architects, dry-flower vases by graphic designer Yuma Harada and bold paper puzzles by artist Asao Tokolo.
Fukunaga Print's workshop is a modest, three-storey affair in Tachikawa, west Tokyo. In the conference-cum-showroom on the third floor of the building, Yamada explains how, when he took over in 2006, the company was struggling to make ends meet. 'We were mainly making cartons and boxes, but were at the mercy of our customers,' he says. 'We needed to make our own products instead of just waiting for orders to roll in.'

A chance meeting with creative director Shu Hagiwara of the Tsukushi stationery store got the two talking about their shared love for the tactile qualities of paper in this digitalised world, and Kami No Kousakujo was born. They have released a new collection of products every year since. Hagiwara and Yamada enlist the designers and decide on a theme, but from there almost everything is left to the designers themselves.

'We try not to say no and try to bring the designers' vision to life whenever possible,' Yamada says. 'We invite everyone to present their ideas at the same time, then the designers just start talking and giving feedback among themselves.'

'Usually we have about five or six designers,' Hagiwara adds, 'but this time we needed ten, so I asked five of our regulars to each invite one of their own favourite designers to the project.'

Previous designs, such as Terada Mokei's architectural models and Torafu Architects' 'Air Vase', have become big sellers and are contributing to Fukunaga Print's bottom line. But the annual exhibitions also serve as a showcase for the printers' skills and commitment to exploring the possibilities of paper, and help bring in new business. Now, ten years from that first show, about half of the company's turnover comes from Kami No Kousakujo projects, helping make Yamada's dreams of a more independent business come true.

As originally featured in the April 2017 issue of Wallpaper (W*217)
INFORMATION
For more information, visit the Fukunaga Print website
Receive our daily digest of inspiration, escapism and design stories from around the world direct to your inbox