Make a stand: PAD Paris sees a welcome increase in female designers and gallerists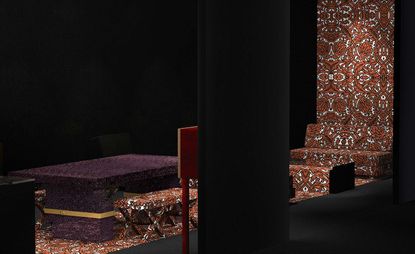 (Image credit: press)
Given that this year marks the 21st edition of PAD Paris, certain constants are inevitable; whether the exhibitors that reliably return such as Jacques Lacoste, Jousse Entreprise, Carpenters Workshop Gallery and Galerie Kreo, or the dimmed and darkened backdrop that gives the fair a theatrical ambiance. Annual visitors and clients will likely agree: there is always a particular thrill in knowing that such meticulously staged mise-en-scenes within a tent in the Tuileries exist for such a fleeting few days.

But the guarantee of discovering something unique or rare, or else finding familiar objets d'art grouped with originality, is what truly makes PAD Paris such a destination fair. An advance walkthrough of this latest showcase yielded too many highlights to include here. So at the risk of excluding quite a bit, what follows is simply an attempt to single out various points of interest or newness, plus a few random observations.
For starters, there is a new President of the Jury PAD Paris Prize, Marie-Laure Jousset, honorary curator of the Centre Pompidou's design department. It is likely no coincidence that her arrival coincides with an increase in female gallerists, who now represent 30 per cent of the exhibitors (it is, admittedly, still a low percentage). In addition, the fair's cafe design was overseen by Sarah Lavoine, who created a lush green setting enlivened with her signature pattern mixing. In some instances, women who have participated in the past are playing up their female artists this year, as is the case with Antonine Catzéflis. Her booth comes alive with the diverse creations of contemporary ceramicists Clémentine de Chabaneix (her innocent animal figures bear the faintest trace of her grandparents, Claude and Francois-Xavier Lalanne), Agathe Brahami Ferron and Elisabeth Lincot, whose 110 unique bird heads make for a lively wall installation and conversation piece. Catzéflis is also presenting a remarkable piece from Benjamin Pagnart which looks as though it materialised from a Hieronymous Bosch painting, with its many breast-shaped drawers and bowed legs, all in manipulated wood. The gallerist says she imagines it being acquired by a perfumer for storing small samples – although frankly, its novelty has far wider appeal.

On the subject of ceramics, Karen Swami's series in a deep shade of lapis blue ringed in lustrous gold deserves a look, if only to appreciate how she has parlayed traditional techniques into vessels that bridge time. But Maria Wettergren's eye for Scandinavian graphic minimalism is no less impactful. Among MW Galerie's key pieces this year are a striking panel of iron thread-like pressed coral fibres by Gjertrud Hals; Ilkka Suppanen's subtle white tableau rendered whimsical thanks to scattered dewdrops in Murano glass; and a high-gloss cubist stack of boxes in peony pink from Ditte Hammerstrøm in her booth. Was she thinking differently about her selection this year? 'I think everything is faithful to the spirit of the gallery,' she maintains. 'These are all poetic works inspired by nature.'
The same could be said of the light fixtures Christopher Boots created exclusively for Armel Soyer (yet another female gallerist). Rock crystals in a dégradé of natural earth tones are illuminated by LEDs within hooped metal frames so that the effect is simultaneously raw and refined.

Indeed, while PAD Paris has never taken a thematic approach, the inclination among exhibitors towards natural subject matter feels undeniable this year. It's certainly noticeable in Damien Gernay's manipulation of leather as wave-like patterning for his 'Mer Noire (Black Sea)' table in the Gosserez space, and also in Alexandre Biaggi's choice of elegant coral sconces from Janine Janet, an artisan who often did window installations for Cristóbal Balenciaga. While Biaggi is among many contemporary decorative arts specialists at the fair, this year marks the 20th anniversary of his gallery and so he returned after a hiatus. 'It's such a creative space where antiques and contemporary works come together in an unparalleled setting,' he says. 'There are so many opportunities to discover.'
And if not to buy, then to learn; Lacoste's tribute to the influence of Hector Guimard – the architect famous for the iconic swirling Paris Métro ornamentation among other Art Nouveau marvels – brings together rare, highly stylised furniture from the turn-of-the-century, recreating the whimsy with freshness and flourish. For an extreme counterpoint, see Dominic Harris' arrangement of small screens at Privéekollektie, each featuring a different species of flower in a state of augmented reality; picture a deconstructed, animated still life (an oxymoron, to be sure) and you get a rough idea.

Also worth singling out: Studio MVW's 'JinShi' console with its decorative pink jade discs that are lit from within to service the adjacent mirror. You'd be hard-pressed to find a chic-er piece for a boudoir. Then there's the rare Lalanne rhinoceros screen at Y & V Gastou, which will likely find a home early into the fair's five-day run.
And as for this year's winners, determined by a jury that included Vincent Darré, Joseph Dirand, Jacques Grange, India Mahdavi and Philippe Starck? Sleeves, the luminescent, multi-hued glass scrolls by Laura de Santillana at Galerie Clara Scremini shared the prize for best contemporary design with 'La Collection', a series of forward leaning decorative forms from RoWin' Atelier at Galerie Alexandre Guillemain.

But for some, Pierre Gonalons' re-imagining of Rudolf Nureyev's Parisian apartment for the designated Studio Pad space might make the most indelible impression. Here, the young designer's austerely attractive marble designs punctuate Pierre Frey's rhythmic oversized vegetal textiles. Not just an update of the dancer's bold taste, the inspired arrangement crystallises the fair's mission to surprise time and time again.
INFORMATION
For more information, visit the PAD Paris website (opens in new tab)