OMA and Knoll launch their 'Tools for Life' furniture collaboration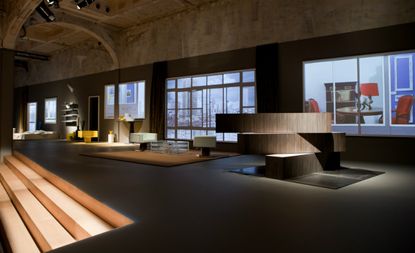 (Image credit: Photography by A Osio. Courtesy of Knoll Inc)
Design is an industry fuelled by collaboration. It's like a huge pack of cards constantly being reshuffled, dealt in a new way every year, with exciting results as manufacturer is matched to designer, architect with artist, material supplier with maker. Some collaborations are better than others.

Knoll (opens in new tab), this year celebrating its 75th anniversary, has plentiful experience in knowing what works, having teamed up with the pantheon of modern masters - from Mies van der Rohe and Eero Saarinen to Frank Gehry - in its time. Age has not made the manufacturer any less experimental, however. Rather the opposite. This year it is pushing the boundaries further than ever with a new furniture collection by OMA (opens in new tab), itself a collaborative practice cofounded by Dutch architect Rem Koolhaas.

The 12-piece collection was previewed at Prada (opens in new tab)'s A/W fashion show in Milan (OMA's think tank AMO (opens in new tab) has designed the sets for Prada's incredible catwalk shows since 2004) and now visitors to Milan's Salone del Mobile (opens in new tab) are able to see the final pieces at the fashion behemoth's exhibition space on via Fogazzaro.

Entitled 'Tools for Life' Koolhaas' collection is as modernist as any of the Knoll collaborators that preceded him: furniture as 'high-performance tool' rather than style statement, taking into account the ever-changing nature of contemporary lifestyles. 'We wanted to create a range of furniture that performs in very precise but also in completely unpredictable ways, furniture that not only contributes to the interior but also to the animation,' he says.

OMA's solution was to build in maximum flexibility. Each piece is rigorously engineered - to be expected when architect meets modernist manufacturer. The palette is no-nonsense, taking its cues from the materials used, including clear acrylic, concrete, glass, leather, travertine and steel.

It shouldn't be surprising to learn that several of the pieces also encourage collaboration, as if built for designers themselves. There are swivel chairs, desks, tables and screens that seem to possess the power to instantly unlock creativity. For individual or collaborative work, the '05 Round Table' and '06 Table' can be elevated and lowered to accommodate lounge seating or even standing - thanks to an exposed mechanism powered by an electric motor. The '03 Coffee Table', meanwhile, features internal slides to allow the individual elements to rotate or cantilever as the occasion suits.

Knoll, which is also launching new pieces this week by Barber Osgerby (opens in new tab), standard bearers of British design, is playing its trump card.
ADDRESS
Prada
Via Antonio Fogazzaro 28
Milan
VIEW GOOGLE MAPS (opens in new tab)