Novel concept: Sonia Rykiel's Parisian outpost pays homage to local history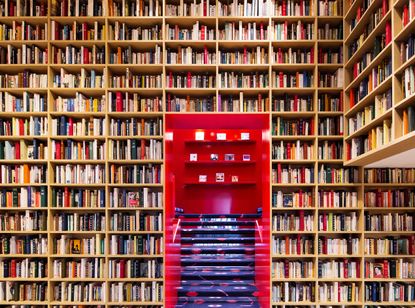 (Image credit: Press)
Wallpaper* Newsletter
Receive our daily digest of inspiration, escapism and design stories from around the world direct to your inbox
Thank you for signing up to Wallpaper. You will receive a verification email shortly.
There was a problem. Please refresh the page and try again.
When Charles Dickens' Mr. Brownlow tells Oliver Twist, 'There are books of which the backs and covers are by far the best part,' he was clearly referring to lousy writing and not decorative value. That line, however, assumes new meaning upon entering the Sonia Rykiel flagship at 175 Boulevard Saint-Germain, where 50,000 books comprise a novel pop-up store concept.

Conceived by Julie de Libran, the brand's artistic director, in collaboration with publisher-director Thomas Lenthal and artist André Saraïva, the renovated space reads as an 'exaggeration' that makes an impact on many levels.

Purely in visual terms, the repetition of the pale wood shelving from floor to ceiling becomes a dimensional nod to the signature Rykiel stripes. If the arrangement of paperbacks seems more random than a rainbow gradient or author's last name, it's also more deliberate than the average home bookcase. Here, the titles seem to advance and recede like ridged patterning. Along corners, the covers face outward as if following the curvature of the artisan-built library.

For those who have not spent enough time on the Left Bank, this famed pocket of Paris is best known for its rich history and backdrop for writers, artists, auteurs and their overlapping social circles. Ms. de Libran, who has seamlessly settled into her role since her arrival last June, sought to reframe the golden age of Saint-Germain as it relates back to the brand circa 2015. 'It wasn't just about clothes but about the atmosphere and being able to spend some time to enjoy,' she told Wallpaper*. 'I thought it was important to come back to the universe of Sonia Rykiel.'

Hence the carpet designed by Saraïva leading up to the mezzanine with its motif of sassy lips, cigarettes, books and pencils (last year, he created a rather risqué floor covering for the nightclub Castel.) Framed in high-gloss red, this upper space feels part-boudoir, part-lounge-and appropriate setting for the eveningwear. Large format catalogues, many out of print and originating from London's Idea Books, become art accents instead of an all-over statement.

Back downstairs, a woven and striped fur throw adds a characteristically insouciant vibe to the vintage black leather sofa with its more masculine, Mies-ian look. From there, you notice that certain patterns emerge when scanning: the majority of titles were published in the 1960s-70s, exactly the period when Sonia Rykiel emerged as a key figure in Parisian ready-to-wear. Beyond those defining years - whether in fiction or fashion - the selection includes a respectable portion of the French canon: Emile Zola, Victor Hugo, Stendhal, Colette, Simone de Beauvoir and more.

Lest this start to sound too erudite, the overall environment emanates with lively plot twists. In the windows facing out to the street, video screens project a larger-than-life virtual tableau of characters sitting outside a café-reading, drinking wine and yes, even smoking. Among the group: Madame Rykiel's daughter Nathalie and granddaughter Lola. During one visit, the background music cycled through Donna Summer. Sneak a peak at the upstairs dressing rooms where a small selection of tomes might make you blush. Ms. de Libran's friend, well-known perfumer Daniela Andrier, developed an enveloping, in-store scent. 'I didn't want it to feel like an aged library; I wanted a feminine space that was very fresh and clean,' de Libran says of her directive, citing notes of vetiver and iris flower and hinting that it may serve as a starting point for an eventual perfume.

But as a concept, the store also presents a salient commentary on what's happening around it, namely, that the venerable booksellers of the area are gradually disappearing.

'We need the history as much as we need the fashion,' she says. 'I don't want to say that the [area] has turned to fashion shops but it's important that we respect that. It's always been part of the culture here… I'm not saying we open a library but maybe there are ways to mix these ideas together.'

While a similar book theme will soon be repeated at the Aoyama location (end of April) and then London (mid-May), Libran reminds that it is a not a permanent strategy (admittedly, it's not the easiest idea to replicate across all locations)-although she is certain that elements will remain.'

And if you were curious, the books are there for perusing. Ms. de Libran even tells the story of a friend who confessed to taking one home, too engrossed to leave it behind. Her response: 'I'd love if you bring it back but then you can take another book.' Needless to say, the same policy does not extend to the clothes.
Receive our daily digest of inspiration, escapism and design stories from around the world direct to your inbox