New Fornasetti vases by Bitossi Ceramiche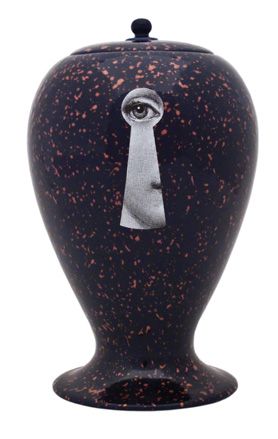 (Image credit: Bitossi Ceramiche)
Wallpaper* Newsletter
Receive our daily digest of inspiration, escapism and design stories from around the world direct to your inbox
Thank you for signing up to Wallpaper. You will receive a verification email shortly.
There was a problem. Please refresh the page and try again.
Fresh characters have been added to the family of Fornasetti vases by Bitossi Ceramiche this month. As always, the designs give a witty twist to Piero Fornasetti's iconic prints, such as the face of his muse Lina Cavilieri. Each of the designs is produced in limited edition and once sold out, will be replaced by a new personality.
All are offspring of the same original – a chalk mould of a vase designed by Piero Fornasetti in the 1950s that never made it into production and was later found in the cellar by his son Barnaba. The ceramics mix Bitossi Ceramiche's craftsmanship with Barnaba's design flair.
The collection will be on show from 26th February to 3rd April at Spazio Fornasetti in Milan, and some of the vases will form part of an installation with surrealist dresses designed by Liborio Capizzi, using classic Fornasetti wallpapers, fabrics and ties.
Alongside the new vases, Fornasetti has recently unveiled a brand new website, designed by Micha Weidmann. We took time out to quiz Weidmann (below) about the new design, and how he went about transforming a brand with such a strong heritage onto a digital platform.
Where are you based?
Spitalfields, London
Where did you train?
Switzerland
How long have you been working as a digital creative director?
For about six years. It started through a series of collaborations with Chanuki Seresinhe, our online consultant, who also worked with us on the Fornasetti website.
What projects are you most proud of?
The Louise Bourgeois book accompanying the touring exhibition at Tate Modern, Centre Georges Pompidou, MOCA LA and the Guggenheim. There are 80,000 words spread over 320 pages with around 350 pictures, and it's a cross between a biography in glossary form and an art catalogue.
I also like the more experimental catalogue designs I did for Prada, as well as a personal project, '84 Airmiles' - 84 pairs of photographs from the air and ground, taken at every mile point on the flightpath from Santa Catalina Island to Los Angeles to Palmdale in the Mojave desert.
How long has the Fornasetti site redesign been in the making?
Six months.
How did you approach it?
A close collaboration with Barnaba Fornasetti was key. We spent many days working in the stunningly designed Fornasetti house in Milan, in order to immerse ourselves and truly understand the extraordinary world of Fornasetti. Working with a creative visionary takes an entirely different approach, as it is important to create a design that functions more like a framework and lets the original creative vision of the designer take centre stage.
How have you translated the historic, traditional brand onto a digital platform?
This is an area I am fascinated by - how to retain the values of a historic, traditional brand that was never created to go digital. In the process, one needs to evaluate what the digital application of the brand should be, in a way that the company originally communicated its brand in the conventional platforms.
Offline or online, the brand should appear seamless. I often find that many businesses try to make their online presence overly digitalised, and thereby, forget the essence of the original brand.
In the case of Fornasetti, traditional high-end typography meets the magical Fornasetti graphics, applied onto the online world, with the same craft that it takes to design a Fornasetti interior.
As far as publishing is concerned, have print and web reached a comfortable mutual relationship yet do you think?
Not at all. Many people still make the fundamental mistake of playing off print against web, claiming 'print is dead'. A truly successful brand recognises the value of both print and web and how to intertwine the two experiences to create an immersive brand experience.
Publishing is a true example - magazines don't yet understand how to intertwine the two experiences, and almost always create two distinct interactions. There have been some experiments like Mine magazine, where a digital publication is created by combining a mix of the various print articles based on your preferences. Although, I rarely see a magazine that cleverly makes sense of the users' needs, either offline and online. As a simple example, the same feature article can have large photo spreads on its print counterpart, and smaller updates on its digital area. In this way, the benefits of both offline and online are used to tell the same story.
What are you working on at the moment?
An e-commerce website for the luxury childrenswear brand, Caramel Baby&Child. This is a collaboration with the e-commerce experts, Brilliant, the offshoot of Pod1. I am also working on the brand identity and packaging for a completely new high end beauty brand due to launch this Autumn.
What's your favourite website?
The Miu Miu website offers a great online experience which, I believe, truly reflects Miuccia's vision for Mui Miu. It's easy to use and very fast, whilst retaining a dynamic design. Another is the Maison Martin Margiela website. It's very clever and makes a statement that fits the Margiela identity.
ADDRESS
Spazio Fornasetti

Corso G. Matteotti, 1/A

I-20121 Milan

Italy
Receive our daily digest of inspiration, escapism and design stories from around the world direct to your inbox