Designers check into Amsterdam's Lloyd Hotel for the sophomore edition of Mono Japan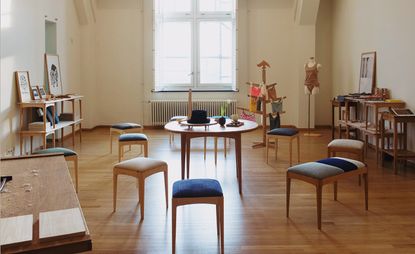 (Image credit: press)
Last week, Mono Japan returned to the Lloyd Hotel & Cultural Embassy in Amsterdam for the second year. This four-day event saw 28 Japanese designers dress the Lloyd's individually star-rated, intelligently-styled rooms with their handmade novelties.

Wandering the corridors, dodging hotel staff bustling up and down with laundry carts, bedroom doors have been flung wide open, eschewing convention and piquing curiosity. Inside each, we find a diverse bounty of Japanese products. A room in the eaves (complete with a swing hanging from the rafters) has been fitted with rails of dusky hand-dyed shirts from Okinawa-based designer Kitta. On an airy mezzanine, clusters of colourful porcelain vessels from 2016/ Arita create tableware rainbows across benches. Elsewhere, minimal leather bags, purses and trinkets by I Ro Se are displayed seductively across a king-sized bed. This is not your average design fair.
Nor is it intended to be, explains the Lloyd's indefatigable creative director and co-founder Suzanne Oxenaar, who objects to Mono Japan being called a 'fair' at all. 'It is an exposition intended to build upon relationships between designers in our two countries,' she offers. 'We are aiming to set up a platform from which we can better understand how to host, and learn from, our international guests.'

Amsterdam and Japan have a long, shared history when it comes to design. Formal trade agreements were established over 400 years ago, seeing an influx of exotic silks, spices and designs flood into the city; and in 2009, the Netherlands released a commemorative €5 coin to celebrate the relationship. 'The Dutch tend to have an affinity with the simple, functional Japanese aesthetic,' Oxenaar notes. 'It's not so different from the Dutch school movement; it has a midcentury modern feel.' In return, it seems Japanese designers enjoy the hospitality and trade that Amsterdam's boutique-lined lanes and design-hungry locals offer.
Take Time & Style, for instance, the delicate ceramics of which danced across the roof of a grand piano in one of the more riotously designed hotel rooms. This firm, which creates everything from reasonably priced glassware to wooden furniture, has decided to establish an inaugural overseas flagship in Amsterdam, in a 900 sq ft converted police station (opening 23 March). Oxenaar, who knows better than most the level of local interest in Japanese objects, and who has backed the brand for years, believes the new opening has the potential to do very well.

Inter-continental connections like this make Mono Japan particularly special. Oxenaar and her team have gone out of their way to choose – and befriend – designers who have an interesting angle, charitable focus or heritage. None have a back-story longer than the Tsunagu Sonogi Tea Farmers, some of whom are in their 23rd tea-making generation. Or tableware company Rakuzen – of the Aizu Creative Japan partnership of four brands – which continues a 12,000 year old tradition of Japanese wood lacquering. Made from a tree resin and natural, antibacterial paint, Rakuzen's bowls are resistant to strong acids, and are thought to have healing properties. The designs are brought to life in workshops across Fukushima by elderly people and those with disabilities. The 'unspillable' lacquered sake cup inspired by a round-bottomed Japanese toy is a particular delight.
Aside from Amsterdam's love for the quality, detail and craftsmanship of Japanese objects, there's a more pressing reason why Oxenaar dreamed up Mono Japan, with the director of Mono Japan, Emiko Chujo. 'The Lloyd Hotel, as it stands today, was created for expositions like this,' she explains, using the positivity, welcome and openness of such events to 'escape the building's past'.

It's no secret that the hotel has a painful history. Oxenaar describes the Lloyd as having a 'heaviness' when she first looked around 20 years ago, before winning a bid to create the culturally effervescent embassy that stands today. Back then, it was near disrepair, being used as artist studios. It has also seen life as a boys' correctional facility, a prison during the German occupation and a sanitary halfway house for immigrants and refugees in the 1920s. It seems the Lloyd was a doomed space from the outset – it bankrupted the company that commissioned it.
But, after some serious feng shui courtesy of MVRDV Architects and an army of over 40 international designers, Oxenaar has managed to cut the cycle of affliction, in a kind of architectural prison break. She even repurposed the surviving cell doors, complete with original locks, to make 12 cabinets now dotted around the hotel. They now contain the museum's archive. In a sense, Oxenaar has imprisoned the museum's history behind the doors that once caged its detainees. It seems apt that for Mono Japan, the doors to usually locked hotel rooms are pitched open, overflowing with story-laden and meaningful objects, filling the corridors with light.
INFORMATION
For more information, visit the Mono Japan website (opens in new tab), and the Lloyd Hotel website (opens in new tab)
Elly Parsons is the Digital Editor of Wallpaper*, where she oversees Wallpaper.com and its social platforms. She has been with the brand since 2015 in various roles, spending time as digital writer – specialising in art, technology and contemporary culture – and as deputy digital editor. She was shortlisted for a PPA Award in 2017, has written extensively for many publications, and has contributed to three books. She is a guest lecturer in digital journalism at Goldsmiths University, London, where she also holds a masters degree in creative writing. Now, her main areas of expertise include content strategy, audience engagement, and social media.