'Mindcraft': four highlights from the Danish design expo at Salone del Mobile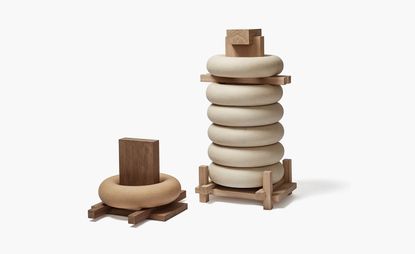 (Image credit: Tuala Hjarno)
Each year Denmark's quirkily named Agency for Culture and Palaces and the Danish Arts Foundation sponsor a showcase of Danish craftsmanship during Salone del Mobile in Milan. Called Mindcraft, it brings together both well-established and emerging talents across a wide field of crafts, from product design to textiles and from fashion to sound installation.
For the second year running, Mindcraft has been curated by the Danish-Italian design duo Stine Gam and Enrico Fratesi of GamFratesi, who have an enviable track record for creating commercially successful but aesthetically uncompromising products. They have also designed a strikingly theatrical backdrop to the exhibition space of the Circolo Filologico Milanese, with many of the exhibits placed on revolving plinths. This year's show – which is subtitled 'In My Mind Craft' – is typically diverse, and Wallpaper* was treated to some of the highlights recently in Copenhagen.
Heavy Stack (Extrude)

Equally intriguing are the mysterious wood-and-ceramic constructions called 'Heavy Stack', developed by two young women: architect Anne Dorthe Vester and designer Maria Bruun. Young and enthusiastic, Maria and Anne are definitely talents to watch: their current work includes a chunky oak bench with thick ceramic 'legs' and an oak double chair with brass-inlaid arms and a circular seat pad that looks like rubber but is actually made from black ceramic.

Their 'Heavy Stack' objects are built from lengths of untreated oak enclosing thick ceramic rings, created by adapting a machine that was originally designed for extruding bricks. By taking changing its profile from square to round Vester and Bruun were able to persuade it to squeeze out hollow tubes instead, which they shaped into perfect circles and ellipses while the ceramic was still soft.
Sølvgade Chair

Cecilie Manz is a living legend of Danish design. Her work encompasses furniture, ceramics, textiles, lighting, glassware and the Beolit 12 portable radio for Bang & Olufsen, but she has a special affinity with chairs – and for Mindcraft 2016 she has created what she describes as her Platonic ideal of a kitchen chair. Called the 'Sølvegade Chair' after the central-Copenhagen street her studio is on, its deceptively simple design is a masterpiece of refinement. Made from solid Oregon pine, whose red tint she has always admired, its crisp detailing and general look of 'rightness' has 'classic of the future' written all over it.
Primal Pottery Project

Ole Jensen is one of the best-known potters in Denmark, with an enviable portfolio of instantly recognisable designs for Normann Copenhagen, Muuto and Royal Copenhagen among many other brands. But for Mindcraft this highly creative ceramicist has gone back to basics, building up a collection of witty and powerfully shaped terracotta vessels which he's called his 'Primal Pottery Project'.

Inspired by the visual resemblances between elements of traditional pots and parts of the human body, these quirky and characterful objects reference ears, legs and breasts, the raw nature of the red fired clay emphasised by a bright red interior glaze.
Mindframes

Øivind Alexander Slaattto is probably best known for his BeoPlay A9 speaker for Bang & Olufsen, with its passing resemblance to a particularly stylish archery target. Based in north Copenhagen in an attic studio he shares with three or four other young designers, he trained as a tuba player before studying at the Danish Design School (now part of the Royal Danish Academy of Fine Arts).

For Mindcraft he has developed a collection of tubular glass hourglasses Mindframes, which he's called Mindframes are are, he says, 'designed to help you keep track of time while staying sane.' Artfully constructed from clear acrylic tubes divided by angled brass discs, each Mindframe measures two different periods of time from as little as a minute to as long as 16 hours, one period for work and the other, longer period for rest and reflection. Slaatto, who doesn't carry a smartphone or check his email outside working hours, says the idea derives from research that shows that the brain can only absorb information successfully for 45 minutes at a time.