Matylda Krzykowski questions our relationship with domestic design at Chamber
Matylda Krzykowski questions our relationship with domestic design at Chamber
'We design objects, but they control how we use them. Think about holding a very precious glass – your pose changes. When you sit in a chair that is not ergonomic, you sit differently,'says Matylda Krzykowski of the inspiration behind 'Domestic Appeal', now on view at Chamber.
It is the third of four shows that Krzykowski has curated for the New York gallery, all centred on the iconic 1956 collage by Richard Hamilton, Just what is it that makes today's homes so different, so appealing? 'Looking at Hamilton's artwork and comparing it with today, the objects aren't very different, but 60 years later there has been a huge shift in the way we want to possess furniture,' she explains.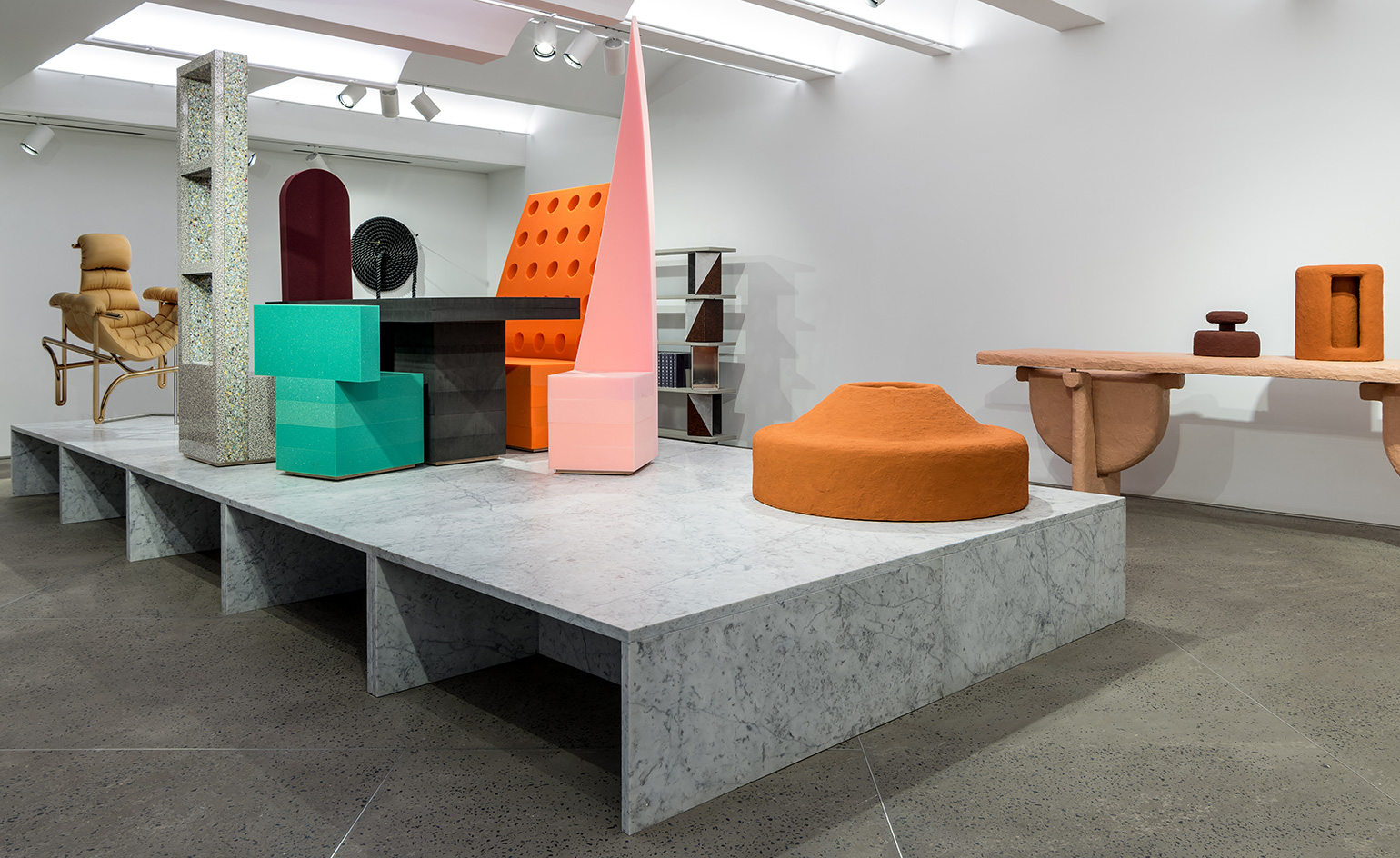 Installation view of 'Domestic Appeal' at Chamber. Photography: Fran Parente
The bespoke pieces in 'Domestic Appeal' were specifically made for the show, often born out of conversations Krzykowski had with the designers. On a platform at the centre of the gallery sits an outlandishly scaled, colourful foam dining set by Andy and Dave, a design studio out of Brooklyn. 'The series resembles huge skyscrapers; we spoke about the exaggeration, colour, humour and flamboyance we've seen lately,' says Krzykowski. Nearby is a completely flat Plexiglas cut-out chair by Tom Hancocks, a New York artist and designer whose digital work has never before been physically realised.
Other playful pieces adorn the walls, such as Eindhoven designers Daniera ter Haar and Christoph Brach's series of kinetic abstract clocks, New York artist Edgar Mosa's 'Inverted Dart Game' (wherein players throw cork balls onto spikes), and London glassmaker Jochen Holz's snaking 'Chandelier No2'.
'Monolith Vertical' and 'Monolith Horizontal', by Dimitri Bähler
Flanking the gallery walls are weighty objects, such as Dimitri Bähler's ceramic monoliths and Carl Emil Jacobsen's 'Powder Variations', that play with unexpected textures as much as they do scale. 'The series [adds] a critical depth of tremendous value to the current contemporary discourse in the fields of art and design,' says gallery owner Juan Garcia Mosqueda. 'Commercial design galleries are quite conservative and Matylda has helped Chamber position itself as a venue where experimentation and audacity are championed.'
Each piece makes a different statement and contributes to the whole show, a sentiment that Krzykowski illustrates through a collage she commissioned from Copenhagen-based Wang & Söderström. She has commissioned a collage from different artists for each of her shows at Chamber, both in homage to Hamilton and to provide a lasting archive of the collections. Krzykowski's last show of the series at Chamber gallery will open on 4 May and focus on new and existing work exclusively made by women.
Installation view of 'Domestic Appeal' at Chamber. Photography: Fran Parente
Unfortunately, Mosqueda was unable to attend the opening of 'Domestic Appeal' as he was denied entry into the United States due to President Trump's executive order on immigration, despite legally living and working in the country for ten years.
In an open letter, he says, 'Although I am not an American citizen, Chamber is an American product that I hope adds to the cultural landscape of the country. The gallery was conceived in alignment with the same idea of inclusion that was found in the streets of the Lower East Side (where I live and was denied access to) not so long ago: a melting pot of all nationalities and religions, importing ideas from abroad to a culturally embracing metropolis. We have worked with over 200 artists and designers, from Tokyo to Los Angeles, from Amsterdam to Santiago, in our less than three years of existence and rely heavily on social mobility to get our message across and display the works that we want to show. To my American friends, I urge you to contact your congressmen and push for immigration reform. Push for a system that does not alienate, intimidate, and bully foreigners but that, on the contrary, welcomes and encourages citizens from all countries to want to keep investing in and contributing to your wonderful country.'
Information

'Domestic Appeal' is on view until 22 April. For more information, go to the Chamber website

Address

Chamber
515 West 23rd Street
New York NY 10011

View Google Maps

Telephone

1. 212 206 0236