Masters of reality: dn&co present skewed urban perspectives in 'Co-Ordinates'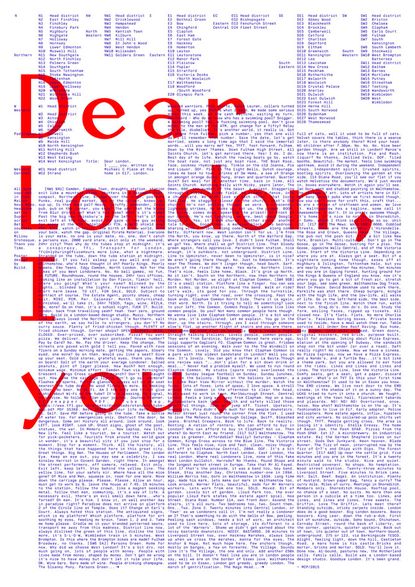 (Image credit: dn&co)
'Perhaps no city has ever been as mapped as London', suggests the brand consultancy firm dn&co (opens in new tab) as the basis of their 'Co-Ordinates' project. A willingly unverifiable statement perhaps, but certainly one with edifying currency – while far from the globe's oldest city (being founded by the Romans c.43 AD, it's pipped to that accolade by over 1000 years in Europe alone), London is a remarkable centre of historical, cultural and social significance, lauded by many and rarely surpassed.

Appropriate then, that dn&co have invited a host of willing participants to visually reimagine it via the medium of large-scale poster design. 'Whether you're into complex infrastructure or pub crawls, or see the city as a playground or a battleground,' runs the remit, 'we challenge you to skew perspectives, distort to your reality and map to persuade.'

The project's 24 contributors include Pentagram, Applied Wayfinding, Build, Face37, Melissa Price, Magpie Studio, Studio Thomson and dn&co itself. Each practice was required to create an A1 sized artwork in two colours, to be printed on 270gsm paper (supplied by GF Smith, with no embossing) and verified by Peckham Print Studio. Of the 11 editions printed, each studio will keep a single copy – the remaining ten will be sold, with profits being donated to Streets of London, a charity that raises money for homelessness work in the capital. What's not to like?

The resulting designs are, inevitably, both beguiling and diverse: from the Yorkshire-based Build studio's breathlessly evocative typographical documentation of the city through the eyes (pen?) of a visiting northerner; to Pentagram's blown up reworking of the Geographer's A–Z Map Company insignia; Entente's abstracted explorations of structure and rhythm; Melissa Price's Public Information-chanelling geological exposition; and Studio Thomson's whimsical, irreverent riff on Routemaster signage. We can't wait to see the rest.

All of the designs will be on display as part of 'Co-Ordinates', from 23–27 September at dn&co's new Bermondsey gallery, Ground Floor Space.
INFORMATION
'Co-Ordinates' will be on show from 23–27 September at Ground Floor Space. Imagery courtesy dn&co
ADDRESS
Ground Floor Space / dn&co
3 Tyers Gate
London, SE1 3HX
VIEW GOOGLE MAPS (opens in new tab)