Marble table pushes the boundaries of furniture manufacturing
The sinuous forms of Roberto Lazzeroni's Infinito table for Poltrona Frau are defined by a rare marble and an innovative design approach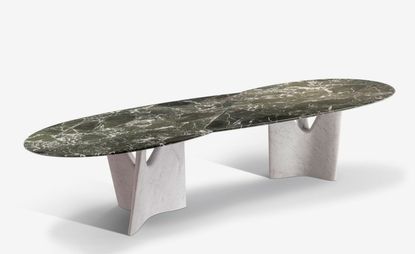 (Image credit: press)
The ways in which nature can take us by surprise are limitless. Take, for example, a cave in Turkey that has long been mined for its reddish-purple Rosso Lepanto marble, but in 2018 unexpectedly produced a deep sage-toned slab with shades of darker green: this 'quirk of nature' forms the basis of an upcoming limited-edition marble table, designed by Roberto Lazzeroni for Italian brand Poltrona Frau. 'As always happens, we found a treasure that we weren't looking for,' says Nicola Coropulis, CEO of Poltrona Frau. 'When we found the green Rosso Lepanto marble, we had no clue about what we were going to do with it.'

Coropulis was entranced by the marble and its origin story, and decided to buy the entire slab. He then reached out to Roberto Lazzeroni, a long-term collaborator, to tell him about the discovery. The pair played out ideas over dinner until Lazzeroni presented a plan to create a marble table. The design would draw on his cross-disciplinary experience in its engineering, while maintaining a focus on the materiality of the marble itself.
Lazzeroni was constrained creatively by the amount of marble available, but otherwise, he had carte blanche. 'The only limit lay in the marble slab's measurement,' he says, noting that the marble block itself measured 240cm, but his design spanned 340cm. 'My solution was to bring together two ellipses, and then cut and splice them on the diagonal in order to create a single geometrical figure.' Comparing this final form to yin and yang, or the infinity symbol, the designer chose the name 'Infinito'.

The design has been produced in a run of 72 pieces. The tables are available in two sizes, weighing in at a whopping 491kg and 286kg respectively. The larger pieces, eight in total, feature a double oval shape and two white marble supports, while the 64 smaller designs have a simple oval tabletop and a single base. The nature of the material and its individual patterning makes every table unique.
Each has been crafted in Tuscany by expert marble workers, who painstakingly carve away at the green Rosso Lepanto to create its top, and sculpt its striking white base from Carrara using a high-tech milling process that makes use of a robotic arm with five rotary axes. 'With this process, the knowledge of the material must be supported by advanced technological knowledge,' says Lazzeroni, praising the skilled craftspeople who worked on the project.

Lazzeroni was born in Pisa, and studied art and architecture in Florence. Since the 1980s, his career has spanned art, architecture and design projects, including a number of collaborations with Poltrona Frau – 'He is our partner-in-crime for many out-of-the-box ideas,' says Coropulis. Notes Lazzeroni, 'Art, architecture and design are three different worlds, but it's undeniable that connections between them exist, and sometimes it happens that they influence each other.'
The collision between the disciplines is perhaps most evident in the world of collectible design, a market that has boomed in recent years and shows no signs of slowing. Brands are now wising up to the fact that limited-edition collections can offer a new kind of luxury. 'The idea of luxury has evolved over time and has moved from being a symbol of opulence and ostentation to a more intimate concept, where exclusivity is the key word,' says Coropulis. 'Limited editions are important in enhancing the value of an object. Thanks to their exclusivity, they perfectly represent what a luxury item should be.'

With that in mind, 'Infinito' is about as luxurious as you can get, its exclusivity rooted in a one-off material that was a result of a natural mutation. 'It is something exceptional, unique and unrepeatable,' concludes Lazzeroni.
INFORMATION
Limited-edition 'Infinito' table, available in two sizes, prices on request, by Roberto Lazzeroni, for Poltrona Frau

poltronafrau.com