Squaring the circle: the making of the treasure box, by RDAI and Lanserring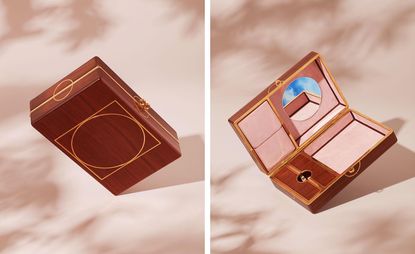 (Image credit: William Bunce)
Perched high above the valleys of southern Austria, the formidable basalt structure of the 17th-century Riegersburg Castle towers above a tiny mountain village. It is in a small garage in the shadow of the imposing fortress that carpenter Johann Radaschitz established his joinery workshop in 1923, creating exceptional furniture from local walnut, oak, chestnut and cherry wood with the help of just one apprentice.

Today, Radaschitz's great-grandchildren, Bernd and Johann, run the joinery business and head a team of 37 skilled craftsmen. Earlier this year, the brothers joined forces with design duo Andrew Hays (a former creative director of Smallbone and Poggenpohl) and Kimm Kovac (an interior architect and set designer) to establish a new brand, Lanserring. Drawing its name from an 18th-century woodcutter – who according to local folk legend still wanders the forest and protects villagers from hostile spirits – Lanserring leverages the time-honed craftsmanship of the Radaschitz workshop to deliver contemporary kitchen designs and lifestyle products on a bespoke basis. The brand is yet to be launched globally, but, eager to sample its exquisite wares, Wallpaper* persuaded Lanserring to create a piece for our Handmade exhibition at Milan's Salone del Mobile.

We introduced the team to RDAI, a Parisian interior architecture studio led by artistic director Denis Montel and design director Julia Capp, which has created offices, workshops and retail locations for Hermès worldwide. It proved the perfect match, and we charged them with creating a 'treasure box' for small valuable items. 'Right from the beginning, Lanserring were interested in everything we were interested in,' explains Capp. 'We wanted this to be piece you'd take to a desert island. Inside, you would have everything you consider essential.' Responding to our theme of spirituality, the proportions of the box would follow the golden mean – a ratio, approximating 1:1.6180339, considered sacred in ancient civilisations, and applied in classical and contemporary architecture alike. Inspired by the minaudière, a clutch bag invented by Van Cleef & Arpels in the 1930s, the box would be divided into four smaller compartments.

Creating the piece tested the manufacturing capabilities of the Lanserring workshop, which is accustomed to working on larger products, such as pieces of furniture and kitchens. The woodworkers rose to the challenge, says Capp: 'Lanserring weren't afraid to work on that scale, on that level of detail.'

The structure was hand-carved from a single piece of sustainable ironbark, which was selected for its warm, feminine colour. The lid is decorated with 24ct-gold inlays, in the shape of a circle inscribed in a square – the symbol of a perfect geometric relationship. ('That was a tricky element,' recalls Hays, noting that the wood had to be properly seasoned in order for the metal to fit without any gaps.) The box opens horizontally, using a pair of circular clasps, to reveal the compartmentalised interior, which is lined in pink kid suede. 'Because of the mechanical, highly engineered precision work of the box, we wanted something soft and delicate on the inside of the lining', says Hays. 'We decided to let the wood come through a little bit in the radius corners, to keep the line running through the inside of the box.' An inlaid mirror with a bevelled edge adorns the interior of the lid.
A late-stage addition came in the form of a pocket, crafted from the same suede. 'It occurred to me, as the project evolved, to create this pocket for a precious item – a lucky charm or a piece of jewellery – that deserves extra protection,' says Capp. Hays imagines the user detaching the pocket from the box, together with its contents, and slipping it directly into her handbag. RDAI devised a concertina mechanism that allows the pocket to maintain an elegant form while allowing easy access to its contents. From a manufacturing perspective, it meant minute folds, bends and stitching that required exceptional skill.
Due to tight time frames, communication between RDAI and Lanserring was strictly digital throughout the production process, save for a few material samples and a full mock-up in resin sent from Riegersburg to Paris. 'We had many video conferences, calls and emails with Julia and Jacques-Elie (Ribeyron, the project designer at RDAI and Wallpaper* Handmade (opens in new tab) alumnus),' remembers Hays. 'But Julia and I didn't meet until we were both in Milan for the Handmade exhibition, where, funnily enough, we found out that we had gone to the same architecture school in Australia.'
Both parties are immensely satisfied with their collaboration, so much that the box is now being developed for retail on WallpaperSTORE*. It certainly bodes well for Lanserring's launch, which is due to take place in both Riegersburg and London this autumn. Capp, for one, is looking forward to it. 'I would be very happy to work with them on other, even bigger projects in the future.'
As originally featured in the August 2017 issue of Wallpaper* (W*221)
INFORMATION
For more information, visit the RDAI website (opens in new tab) and the Lanserring website (opens in new tab)
TF has been editor of Wallpaper* since December 2020. He is responsible for our monthly print magazine, planning, commissioning, editing and writing long-lead content across all our content pillars. He also plays a leading role in multi-channel editorial franchises, such as our annual Design Awards, Guest Editor takeovers and Next Generation series. He aims to create world-class, visually-driven content while championing diversity, international representation and social impact. TF joined Wallpaper* as an intern in January 2013, and served as its commissioning editor from 2017-20, winning a 30 under 30 New Talent Award from the Professional Publishers' Association. Born and raised in Hong Kong, he holds an undergraduate degree in history from Princeton University.