Kyoto's Maana Kiyomizu boutique hotel is the epitome of modern craftsmanship
Maana Homes' latest boutique hotel with a twist opens in Kyoto, including suites, a café, and a shop specialising in modern Japanese craftsmanship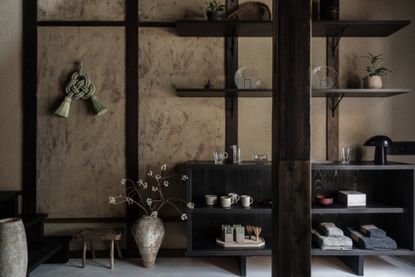 (Image credit: Mitsuru Wakabayashi)
A contemporary sunken bathtub in soft sand shades with views across a 16th-century shrine; a clean-lined Danish sofa alongside a room of delicate washi paper panels; and an abstract French pendant light plus crafted screens of woven bamboo. Welcome to Maana Kiyomizu, home to a sleek Kyoto collision of past and future. The latest addition to the ancient city's hospitality and creative scene, the boutique hotel spans a network of renovated century-old machiya townhouses on a quiet lane in the Higashiyama district.
Eating, sleeping and shopping at Maana Kiyomizu
The project ticks off a hat-trick of activities – eating, sleeping and shopping – with three suites for overnight stays; POJ Studio, a shop specialising in modern Japanese craftmanship and art; and Kissa Kishin, a stylish cafe serving up seasonal cuisine.
'Our vision for this project is to bring the essence of ancient Kyoto into the modern world, through an intimate journey of food, crafts and stays,' explains Hana Tsukamoto, co-founder and COO of Maana Homes, which produced the project and also runs two other machiya residences in Kyoto.
Co-founder Irene Chang adds: 'We wanted to bring creative and vibrant energy into the neighbourhood community with an unexpected, refreshing approach to machiya. We hope to inspire a renewed perception towards them, and how they can be reimagined to fit into our modern lives.'
From the outside, Maana Kiyomizu – which opened its café and shop this month and will launch suites in November 2022 – blends in easily with a typical Kyoto streetscape of low-rise machiya. Stepping inside, however, the ambiance immediately tilts into a more contemporary dimension. Renovated by Kyoto architects Shigenori Uoya and Takeshi Ikei, the spaces are contemporary and minimalist, with smooth textures, soft curves and a light-toned palette that evokes a refreshing edge for machiya interiors.
The first suite has a calming backdrop of sand-toned walls, which encase the bed and flow into a sunken bathtub, alongside abstract paper lanterns and a wall of windows overlooking nearby Toyokuni Shrine. The second has a contemporary living space, with a serene 'Petal' pendant light by Elsa Foulon, Karimoku Case Study dining chairs and a nook room with a minimal arc entrance, wrapped in a warm orange shade by Copenhagen's St Leo.
The bathroom – a signature feature for Maana Homes – has a bespoke Shigaraki ceramic bathtub handmade by artists in Shiga, beneath a delicate eggshell-like hanging pendant crafted by artist Gaku Nakane (whose work will feature in a POJ Studio exhibition from October).
Upstairs is another scene of modern craftsmanship: the master bedroom is wrapped in lattice-like screens of woven bamboo known as takekomai – a structure that is normally hidden beneath traditional tsuchikabe (wattle and daub) plaster walls. A further guest room is serenely cocooned in panels of handmade washi paper by artist Wataru Hatano. The modern Zen-like atmosphere continues in the third suite, with its smooth, softly toned expanses of plaster, minimal seasonal blooms and antique wooden bench, balanced by the clean, modern lines of a sofa from Danish brand Menu.
Peppered throughout are POJ Studio details, from the clutches of abstract chochin lanterns to the amenity boxes, plus items such as tea sets, all available to buy next door. The shop itself sells a curated selection of its homeware and crafts, while also offering intimate workshops in activities such as kintsugi (repairing broken pottery with gold) and a concierge service specialising in access to artisans and artists.
Kissa Kishin is the final ingredient. The little sister of a celebrated restaurant in Kamakura, a coastal town just outside Tokyo, the new Kyoto café has a clean-lined façade of glass walls and a white noren curtain. Inside, against a contemporary backdrop of bespoke Maana Homes-designed Aria furniture, paper lanterns and artworks by Akari Karugane, relaxed Zen-inspired cuisine is served up (the signature breakfasts are already a favourite locally).
'Our design process has always been organic, not constrained by any style or trends,' adds Tsukamoto. 'For Maana Kiyomizu, we really aimed to push the boundaries and challenge typical perceptions of machiya. Until now, there hasn't been such a risky, contemporary attempt at machiya renovations.'
INFORMATION
maanahomes.com (opens in new tab)
pojstudio.com (opens in new tab)
kishin.world (opens in new tab)