Looking forward: the fourth British Ceramics Biennial in Stoke-on-Trent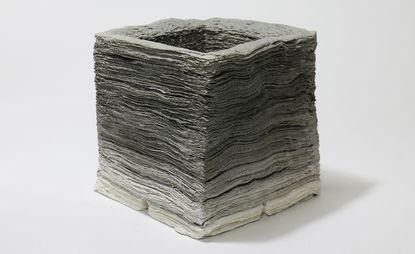 (Image credit: Jongjin Park)
After the Spode factory in Stoke-on-Trent closed its doors in 2008, artist Neil Brownsword scavenged its scrap heaps and found piles of discarded pottery. Seven years on, some of it is back inside the factory, this time on the walls, as part of the British Ceramics Biennial (opens in new tab).

Brownsword's mission, 'to celebrate skilled artisans from ceramic flower makers to copper engravers to china painters, and expose the tricks of the trade to future generations', is shared by the Biennial director Barney Hare Duke. Now in its fourth year, the exhibition has a future facing, artistic bent, rather than a nostalgic one. 'It would be a folly to think that Stoke could go back to what it was in its heyday,' says Hare Duke (at the start of the 20th century, around 20,000 people were employed in the potteries, today it's 7000). 'We need to look forward.'

To this end, the 'Fresh' section focuses on the work of 22 recent graduates, among them Korean Jongjin Park who explores ceramics and their ability to imitate other materials such as wood and paper; while 'Awards,' the centre piece show, features 12 rising stars. Among them are James Rigler, whose eight pillars are inspired by an image of Le Corbusier at the ruins of Olympia and Amy Hughes, who has just completed a residency at the Victoria and Albert Museum. Linking the sections are interactive installations, such Matthew Rowe's bar, christened the 'Shifting Spirit' and Lawrence Epps' two-penny slot machine that uses clay, rather than real, coins.

For the duration of the biennial, Spode's famous kiln has been rekindled and sculptor Bruce McLean has been working on site, making hand painted tiles and a limited run of 100 bowls (for £750 each). Plans are afoot to reignite the studio permanently and to turn a nearby derelict building into an artist's residence.

The biennial's hub is Spode, but the whole city is involved. At Airspace gallery, Ian McIntyre (whose ceramics are sold at design stores Hay and Another Country) exhibits his work on the 'Brown Betty'. Invented in Stoke in 1690, the Betty was the most manufactured teapot in history but several modifications have weakened its original, superior design. McIntyre is on board to take it back to its former glory.
INFORMATION
British Ceramics Biennial (opens in new tab) is on show in Stoke-on-Trent until 8 November
Emma O'Kelly is a contributing editor at Wallpaper*. She joined the magazine on issue 4 as news editor and since since then has worked in full and part time roles across many editorial departments. She is a freelance journalist based in London and works for a range of titles from Condé Nast Traveller to The Telegraph. She is currently working on a book about Scandinavian sauna culture and is renovating a mid century house in the Italian Lakes.