London Design Medals 2021: meet the winners
London Design Medals 2021 are awarded to Ilse Crawford, Mac Collins, Michael Wolff, and Eyal Weizman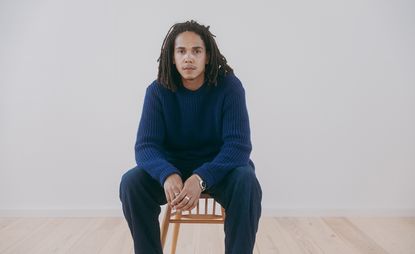 (Image credit: George Howard Rees-Jones)
The winners of the London Design Medals 2021 have been announced, with Ilse Crawford, Eyal Weizman, Mac Collins and Michael Wolff awarded with the annual accolade. The winning quartet was chosen from a panel of judges including Domenic Lippa, Jay Osgerby, Wallpaper* editor-in-chief Sarah Douglas, Justine Simons, Sir John Sorrell, Paul Thompson and Jane Withers.
'There's always a topicality to the medals,' comments Ben Evans, London Design Festival director. 'This year's choices reflected the special times and conditions that we're all trying to live in.'
London Design Medal – Ilse Crawford
'Ilse Crawford is a well known London design figure and has been present for a long time of course, but what better time to acknowledge the work she's done on wellbeing than now,' comments Evans. 'Crawford is a pioneer in thinking about the wellbeing aspect of design, she has been quietly and quite modestly working on it, but has also a great persistence to it, which has surfaced in lots of different ways.'
Crawford's studio has worked on projects ranging from furniture, art direction and immersive interiors based on human connection.
Her humanistic design approach is greatly exemplified through projects including the 2017 Refettorio Felix at St Cuthbert's community hall and, more recently, the Anna Freud Centre for child mental health research, training and treatment.
'We design environments that bring people together to talk, eat, work, play and heal, prioritising healthcare and wellbeing at a systemic, not surface level,' reads a statement from the studio.
'In 2003, the same date that the London Design Festival began, I started Studioilse here,' says Crawford.
'Without question, LDF has transformed the city's entire attitude to design. From a city that scarcely knew the meaning of the word to one that celebrates it. And put it on the map for design from a global perspective. I couldn't be more proud to win this award.'
Emerging Design Medal – Mac Collins
Originally from Nottingham, design newcomer Mac Collins graduated from Northumbria University in 2018, and his work has gathered the design community's attention for its well considered yet bold forms, attention to the making processes, and an underlying narrative that draws from his Caribbean descent.
At a crossroads between a maker and a designer, Collins' work reflects his interest for materials and techniques, most notable in his 'Ikva' chair (presented as a graduation project and since acquired by Benchmark as part of their catalogue).
'Ikva' is inspired by ideas of Afrocentrism and Afrofuturism and the forced migration of African people during the colonial era. The chair, the designer explains, 'offers a speculative sense of protection from this aggressive practice as, when used, the throne conjures up notions of authority, empowerment and dominance against oppression'.
Collins' ability to weave bigger conversation into his designs, and his strong aesthetic and manufacturing perspective has gathered the attention of brands and institutions, with upcoming projects including a rug design for Floor Story and inclusion in the Wallpaper* and AHEC initiative supporting emerging designers, Discovered (on view at the Design Museum from 13 September to 10 October 2021).
'In this category, we're always interested in potential, and some of that spark that we hope as a group of wise onlookers can see,' says Evans.
Lifetime Achievement Medal – Michael Wolff
The annual award to 'a significant and fundamental contribution to the design industry over the course of a career', the 2021 Lifetime Achievement Medal is awarded to graphic designer Michael Wolff. A note from the festival reads: 'Across more than six decades, he has remained a passionate advocate for design's essential role in improving every aspect of our lives.'
Wolff co-founded Wolff Olins with Wally Olins in 1965, creating iconic branding work for the likes of

Apple Records, Volkswagen and Audi. Wolff is patron of the Inclusive Design Challenge with the Helen Hamlyn Centre at the RCA, a member of the Government-sponsored Design and Technology Alliance against crime and former chairman of the Legible London initiative with Transport for London, a visiting professor at the University of the Arts in London and a senior fellow of the RCA.
'Michael is the ultimate designers' designer,' says Domenic Lippa. 'He's modest, smart, engaging and inspiring. He is a mentor to established designers as well as to the youngest generation, but he's also a bit of an enigma.'
'Wolff is one of the key trailblazers of British graphic design,' adds Michael Johnson. '[Wolff Olins] single-handedly sowed the seed of what we now call branding by taking design into the boardroom.'
Design Innovation Medal – Eyal Weizman
There are a few elements of Design Innovation Medal winner Eyal Weizman that fit within our time: a multidisciplinary creative with a mission to use architectural research as a tool for social justice, he founded research agency Forensic Architecture to investigate human rights violations including violence committed by states, police forces, militaries, and corporations.
Bringing together a team of activists, artists, architects and researchers, he collaborates with legal entities, international NGOs and media organisations to highlight police brutality, border regimes and environmental violence.
The agency's mandate, reads a mission statement, is 'to develop, disseminate, and employ new techniques for evidence gathering and presentation in the service of human rights and environmental investigations and in support of communities exposed to state violence and persecution'.
'Eyal gathered these specialists into a kind of jigsaw puzzle,' comments Evans. 'And he's got the big view to put that jigsaw puzzle together. His research has exposed a series of very important issues and it critically calls into question the role of architecture and design, and their responsibilities in this changing world.
'We've always been interested in people who give something back and contribute, which links to the festival's mission, trying to broaden the reach of design to the widest possible audience and get them to think about new things in different ways – like design experiments,' says Evans.
'And if you go home, thinking about design a little bit differently, because you've encountered it, I'm quite pleased.'
Rosa Bertoli was born in Udine, Italy, and now lives in London. Since 2014, she has been the Design Editor of Wallpaper*, where she oversees design content for the print and online editions, as well as special editorial projects. Through her role at Wallpaper*, she has written extensively about all areas of design. Rosa has been speaker and moderator for various design talks and conferences including London Craft Week, Maison & Objet, The Italian Cultural Institute (London), Clippings, Zaha Hadid Design, Kartell and Frieze Art Fair. Rosa has been on judging panels for the Chart Architecture Award, the Dutch Design Awards and the DesignGuild Marks. She has written for numerous English and Italian language publications, and worked as a content and communication consultant for fashion and design brands.