The 2020 London Design Medals announced
Paola Antonelli, Dame Ellen MacArthur, Yinka Ilori and Ken Garland have scooped the coveted awards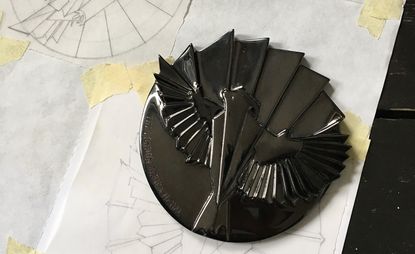 (Image credit: TBC)
The winners of this year's London Design Medals have been announced as Paola Antonelli, Dame Ellen MacArthur, Yinka Ilori and Ken Garland. The award, now in its 14th year, recognise the contribution made by leading design figures and emerging talents to London and the industry.
Feeling more poignant than ever, each winner uses design as a vessel to innovate and aspire for a better future. Previous winners of the medals include Tom Dixon, Zaha Hadid and Es Devlin, and this year's quartet was chosen from an esteemed panel of judges – Domenic Lippa, Jane Withers, Jay Osgerby, Njusja de Gier, Paul Thompson, Raoul Shah, Sheridan Coakley, Tristram Hunt, Sarah Douglas, Justine Simons, Ozwald Boateng and Es Devlin.
Like many recent events, the ceremony will be held virtually on 14 September and supported by Headline Partner SAP. Guests will receive a special Pentagram-designed hamper from supporting partner Fortnum & Mason.
Ben Evans, London Design Festival director says: 'Paola is the world's most important design curator, Ken made Galt Toys the best designed range available, Ellen MacArthur's foundation is setting the agenda on design and the circular economy, and Yinka dynamically blends the colour of his Nigerian heritage with design.'
Explore the London Design Medal winners below
Yinka Ilori – Emerging Design Medal
It comes as no surprise that Ilori's contemporary take on pattern and vibrancy has been celebrated as this year's most exciting rising talent. Known for his unique style that melds heritage, colour and upcycling, the British-Nigerian designer, who set up his practice in 2011, has been tapped by the likes of Dulwich Picture Gallery (pictured), NOW Gallery, The Africa Centre and more for his playful yet incredibly thoughtful design aesthetic. Most recently he created a chair-bench hybrid for Danish textile stalwarts Kvadrat that looks at the role of the chair as a social tool and the human interaction around it.
'I just hope my work inspires the next generation of young designers with a similar background to me. I really am grateful and excited for the future,' he says. During the pandemic, Ilori's inspiring murals have been dressing London's walls in a project for Chelsea and Westminster Hospital NHS Foundation Trust.
Paola Antonelli – The London Design Medal
Recognised for her groundbreaking and urgent work in the realm of design investigation, curator and 2019 Wallpaper* Design Awards judge Paola Antonelli has been awarded the highest accolade of The London Design Medal, which recognises an individual who has distinguished themselves within the industry and demonstrated consistent design excellence. Senior Curator at The Museum of Modern Art, Antonelli has most recently worked on a Neri Oxman retrospective and the second iteration of award winning exhibition Broken Nature, an exploration of what design can do to alleviate the devastating damage caused by the human race.
'Of all the capitals of design, London is the one that best understands our field's breadth, versatility, diversity, and its power to influence society in all aspects of life, everywhere, and at all levels of impact. Design is important, and it is an important moment for design,' says Antonelli. During the pandemic, she didn't stop either, and took to Instagram to launch @design.emergency – a project that examines the role of design in response to the Covid-19 pandemic, in collaboration with critic Alice Rawsthorn.
Ellen MacArthur – Design Innovation Medal
Another pillar in design innovation is Dame Ellen MacArthur, a pioneering solo sailor who set up the Ellen MacArthur Foundation, an entity that works to accelerate the transition to a circular economy. MacArthur has been given this year's Design Innovation Medal that celebrates entrepreneurship in all its forms.
'When we started working to accelerate the transition to a circular economy ten years ago, we knew that a new approach to design would be critical: it's about deciding from the outset to design in a way whereby products, components, and materials stay in the system,' she says. 'Since then thousands of innovators from startups, academia, government and business have seized the opportunity to think about how they can deliver benefits beyond one product, looking at how that product can fit in a much broader, regenerative system.' During London Design Festival, the foundation are working on an educational project of talks, panel discussions and seminars that hope to empower the design community to seize the opportunity of the circular economy as a framework for positive global impact.
Ken Garland – Lifetime Achievement Medal
With a career that spans graphic design to educating, writing to photography, Ken Garland's contribution to design history is significant. Before forming his design studio Ken Garland & Associates in 1962, he worked as art editor of Design Magazine, and then continued to influence the industry with his teaching at Central School London, The University of Reading, The Royal College of Art and the University of Brighton. 'I am delighted to be chosen as the recipient of one of the London Design Medals,' says Garland. 'At my age (91) I had thought I was a forgotten person – but no, someone still remembers me!'
Garland's unforgettable projects include his politically-charged 1964 manifesto 'First Things First,' in favour of the more useful and more lasting forms of communication that was signed by numerous graphic designers and his studio's 20-year visual identity for Galt Toys.