Lenny Kravitz reveals his design sensibilities for Dom Pérignon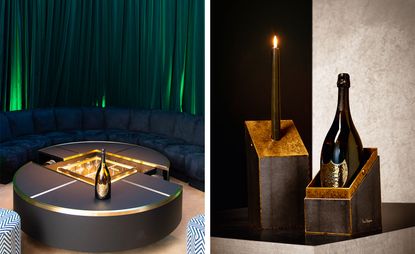 (Image credit: Dom Pérignon)
Lenny Kravitz designs a champagne table and candle holder as part of a limited-edition collection for Dom Pérignon
In 2003, with four Grammy wins, an abundance of AMA's, VMA's and countless other three-lettered music awards under his belt, rock star Lenny Kravitz decided that it was time to pursue his other, lesser-known creative passion as a designer.
For Kravitz, it was never going to be a case of simply dipping his toe in – he wanted to become fully submerged in this world, solidifying his passion for creating objects, interiors and architecture. So, with the encouragement of a certain French design icon, he started up his eponymous company, Kravitz Design, and over the coming years worked on projects ranging from a customised collection for Kartell, to creating interiors for the Stanley House property in Los Angeles, completed in 1955 by American architect Austin Kelly.
'Philippe Starck is actually a major reason as to why I'm doing design,' Kravitz says over a cold glass of champagne inside a very hot north London studio. 'He came to my house in Paris, which is basically a showroom for my stuff, and he said "you should be doing this, for real!". Soon after, he set me up with his businesspeople and I worked with them for years building the company.'
'I had gotten tired of always redoing my own places, I would do one and then would want to move onto the next vibe,' he adds. 'So I thought, why don't I start a company where I can do this for other people, with bigger projects and collaborations.'
In 2018, Dom Pérignon's former Chef de Cave Richard Geoffroy – with whom Kravitz had been friends with for decades – asked him to join the brand as creative director. 'Being around Richard for all those years, I had learnt so much about winemaking, and was educated by going to tastings and spending time in the Dom Pérignon vineyards,' he says. 'They asked me to do the job based on my existing photography and design work. I thought it'd be beautiful to have the honour of walking alongside Richard as he completed his dynasty.'
One of Kravitz's first projects for the brand was a photo series named Assemblage, which he presented in 2018 in an exhibition at New York's Skylight Modern. With a concept based on bringing together a group of characters that alone had 'inspiring, singular and exceptional personalities', he rounded up the likes of model Abbey Lee, actor Susan Sarandon, designer Alexander Wang and his daughter, actor Zoë Kravitz. The result was a black and white series, in which each guest can be seen sipping on champagne whilst looking to be having a (genuinely) very good time.
With the photography series proving a huge success, the musician moved on to the next project in his role as creative director, which resulted in a series of objects, including a candle holder, gift box, bar table and custom bottle – each item unapologetically dripping in Kravitz's personal style, while staying true to the Dom Pérignon brand. Refreshingly, the collection appears to be so much more than a celebrity endorsement, given Kravitz's long-standing relationship with champagne house and his impressively encyclopedic design knowledge (when asked about his icons, he cites the likes of Gabriella Crespi, Oscar Niemeyer and John Lautner).
'I love furniture and I love interiors, so I wanted to create something for them that would be in the home,' he says. And so together with his team, Kravitz came up with a luxurious coffee table crafted from black lacquer and brushed brass trims. Moreover, the table unfolds to reveal a space to stash your bottles of Dom Pérignon, glasses, and an all-important ice bucket.
'I thought it'd be great to create a coffee table that everyone would gather around,' says Kravitz, again replicating this feeling of 'togetherness' seen in his earlier photo series. 'Everything and everyone is here, so you don't have to go and get anything.' The collection is completed by a limited-edition gift box that doubles as a candle holder, inspired by his own love for flamelight. 'At night, I do everything in my house by candlelight,' he says, which makes his zen approach to each of his projects, be it music or design, all the more understandable.
INFORMATION
domperignon.com (opens in new tab); kravitzdesign.com (opens in new tab)