'Kartell: The Culture of Plastics', published by Taschen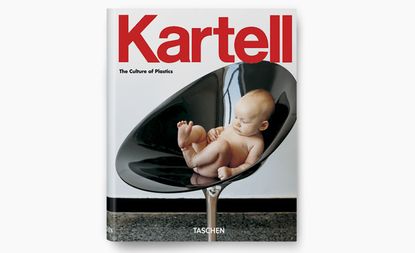 (Image credit: Kartell)
The Kartell Museum in Milan, home to 60 years' worth of plastic icons from the Italian furniture brand, was the obvious setting for last week's launch of 'Kartell: The Culture of Plastics', a new 400-page monograph chronicling the brand's rise and rise. Edited by Bauhaus University professor Hans Werner Holzwarth and Kartell Museum curator Elisa Storace, the book analyses the brand's remarkable history, illustrated by archival shots of the bestsellers of the era.

It will be published by Taschen in two editions - one in Italian, Spanish and Portuguese, the second in English, French and German - on 1 March.

Kartell's early success followed some spot-on decisions by founder Giulio Castelli, a former chemical engineer, and his wager that the future of furniture design would hinge on candy-coloured moulded-plastic furniture. Castelli's instincts and faith in the material were paramount, as was his knack for hiring top Italian industrial designers like Ettore Sottsass, Pier and Achille Castiglione and Joe Colombo.

By the time Dustin Hoffman heard that oft-mimicked line in 'The Graduate' - 'Just one word: plastics' - Kartell had already been in the business nearly 20 years. Soon after, Kartell launched its Componibili range of cylindrical storage tubs, now ubiquitous in bedrooms, bathrooms, offices and kitchens across 60 countries.

To spotlight this and other Kartell successes, current CEO Claudio Luti invited some of Europe's most distinguished designers and curators to contribute their thoughts to the Kartell tome. A dedication by Franca Sozzani precedes chapters by Deyan Sudjic and Marie-Laure Jousset, among others, who provide context to the iconic back catalogue and justification for the brand's survival. It can't be summed up in one word but rather an endless list of names (Philippe Starck, Vico Magistretti, Antonio Citterio, Tokujin Yoshioka…) responsible for an endless run of instant classics.