The shadow of Moroder: Joogii expands French Touch collection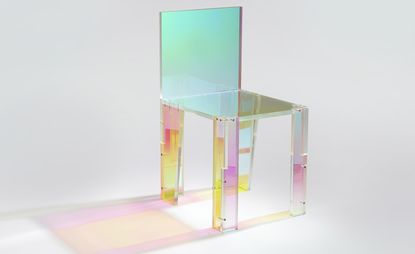 (Image credit: TBC)
It's appropriate that Juliette Mutzke-Felippelli and husband Diogo Felippelli– known collectively as design brand Joogii– name Philippe Starck's early work as an influence. Starck famously got his start in Paris nightclubs and Joogii also started in a nightclub when Juliette and Diogo first met and bonded over their shared love of music.

Juliette calls Starck a 'master of creating magical places,' citing the sumptuous allure of Faena Hotel Buenos Aires. It's a talent that LA-based Joogii strives to emulate, and though they've only been around for a short time (since 2015) they've already been selected for WantedDesign's Launch Pad 2016 program and were shortlisted by ICFF in the Emerging Talent category.

For Joogii, magic is also embodied by aural architects like Giorgio Moroder. The firm's French Touch chair, inspired by 1990's European house music, references Daft Punk and has its own mix tape. The sharp acrylic lounger, more form than function, could nonetheless be the ghost chair's iridescent cousin. Juliette was driven to create the French Touch chair out of curiosity about dichroic film, which gives the piece its hues.

'Diogo's the graphics guy and I like to do the research side of things,' Juliette says. 'Juliette is conceptual, I'm visual,' Diogo adds.

Juliette majored in Global Studies at UC Santa Barbara before getting a degree in interior design from the Fashion Institute of Design & Merchandising (FIDM.) Diogo left law school for ad school where he gravitated toward the creative section of the agency, eventually making the leap to design.

The couple has expanded their French Touch collection to include a coffee table, side table, and additional art objects. Each is named after a French house musician of the 90s. With any luck, we'll soon be wearing Cassius on our wrists in the form of structured bangles Hubert and Philippe.

Joogii has also taken on some of the most ubiquitous graphics of our moment: emojis. After Juliette took a class in neon, the designers chose three emojis to render in neon inspired by the dating adventures of their friends. Each is paired with its own cringe-worthy text exchange.

Joogii's aptly titled Casualties series is 'an observance of modern day communication among single people,' Juliette explains. One of the emojis they've chosen is the eggplant. 'It's so wrong and so right,' says Diogo.

Diogo grew up in Rio de Janeiro, which is where he met Juliette, a California native. Juliette recalls trying to glimpse neighbor Oscar Niemeyer as he entered and exited her building.

The worldly Joogii feels like they are in the right place at the right time.

'It feels like an amazing time to be in Los Angeles. We've grown here as the art scene has grown here,' says Juliette, continuing, 'New Yorkers are risk takers, LA is safer when it comes to design, it's another impetus for us to push new ideas.'

Los Angeles has given Diogo new inspiration in his obsession with wrist watches. This year Joogii will release a watch based on the infamous LA freeway system and the amount of time Los Angelenos spend there.

No doubt, passing the minutes with a killer playlist.
INFORMATION
For more information visit the Joogii website