Jerusalem's nascent design scene is small but certainly determined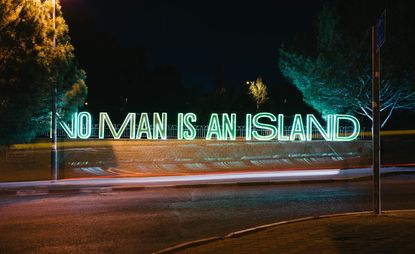 (Image credit: Dor Kedmi)
Israel is a country of contrasts. While the 108-year-old city of Tel Aviv has always looked to the future, attracting creative residents with its liberal culture and beachside location, the ancient city of Jerusalem is anchored firmly in its past.

So when six years ago, the Jerusalem Development Authority and Ministry of Jerusalem and Heritage decided to sponsor a design week, the city was presented with a unique opportunity. 'We wanted to show another side to the city and bring as many people as possible to experience Jerusalem as we see it,' says Ran Wolf, the managing director of Jerusalem Design Week. 'Contrary to popular belief, Jerusalem is a leading city in design and creativity. Jerusalem is full of young and creative people.'

Today the perception of Jerusalem is changing. The city is gaining a reputation as a centre for tech start-ups, craft beer, boutique hotels and a lively nightlife scene that unites its diverse citizens. The emerging design scene – bolstered by its world-renowned design school the Bezalel Academy of Arts and Design – is certainly small but also determined. Working out of a series of studios in the city's Talbiya district, a group of nine local designers called the Jerusalem Design Collective are a sign that young designers are increasingly finding reasons to stay.
'Being a designer in Jerusalem is a statement. It's about being different and thinking differently,' says designer Daniel Nahmias, the collective's founder. 'Jerusalem is a multicultural cosmopolitan city. While multiculturalism has in the past been a disadvantage in Jerusalem, it has become a distinct advantage. In the coming years, you will be able to see more design centres, more platforms for innovation and creativity. It is a city that invests resources in the design and art community, much more than other cities, with the understanding that the creative class is the engine and key for the city's development.'

The city's growing design week is helping to nurture this emerging network. Spread across four venues in the city's affluent Talbiya neighbourhood, this year's 150 participating designers tackled the broad topic of 'Islands: an inward exploration of design as a bridge between social, political and cultural boundaries'. The theme is not only a comment on the ongoing conflict over Israel's borders, but also on wider international political events.

'With Brexit, Trump's wall and the mega-portals of the web, the world seems to be closing off into imagined comfort zones,' explain two of the design week's curators, Tal Erez and Anat Safran. 'Facing these changes, designers hold great power: from the potential of creating alternative worlds to the reconstruction of identities.'
INFORMATION
For more information, visit the Jerusalem Design Week website