Beirut Design Week looks to the future of making, challenging the need for design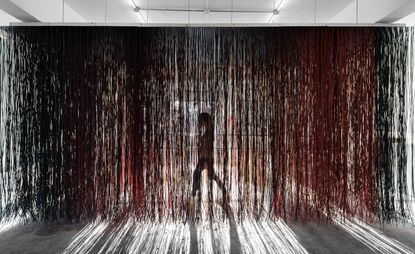 (Image credit: TBC)
In a city as colourful, rich and challenging as Beirut, you would expect a design week to be thought-provoking and fascinating. And the sixth edition of Beirut Design Week did not disappoint. Provocatively titled 'Is Design a Need?', the event's central exhibition in the KED building in the north of the city brought together experimental, emerging and conceptual designers under one roof.

For Beirut Design Week director and co-founder Doreen Toutikian design isn't about 'pretty objects or high-end materials, but about asking critical questions about the value of design and who it is for'. Undoubtedly the most thought-provoking show was 'Speculative Needs', which catapulted the viewer into a future where the inexorable consequences of oversharing and our technology addiction were explored through a series of items made out of cheap, mass-produced elements that looked both futuristic and deceptively playful.
Heaven Earth installation by crafts and design studio Damj. Courtesy of Mena DRC

'Tools of Greeting' was a series of contraptions that allow people to take a sample of their own DNA to hand over instead of business cards, while 'Sensual Robots' is a collection of sex toys that brings back some of the intimacy and tactility of human interaction in an age where highly sophisticated customised sex toys has made sex obsolete.

Other highlights at KED were a series of poetic white marble sculptures by architect and designer Karma Dabaghi designed to acknowledge and help process loss and grief (each piece contained a void that represented a constant absence); a collection of beautiful tabletop accessories by Viennese outfit zerunianandweisz who worked with Roma craftspeople in Transylvania and artisans in Tripoli to create sumptuous copper and brass cups, bowls and more sculptural pieces.

Four women graphic designers showed their own personal work of which the standout were Rana Zaher's richly layered drawings depicting ancient Mesopotamian creatures and deities framed by Assyrian decorative motifs. A closer look at the prints, which were inked by hand, revealed a series of burgundy constellations dotted around the works that were inspired by the writings of Persian astronomer Abd al-Rahman al-Sufi. 'In the last ten years you have started to see this reawakening,' explains Toutikian, 'designers looking for something local and culturally relevant and exploring aesthetics that specifically relate to us as opposed to something bland or more international.'

Off-site there was much to see as well. Annabel Karim Kassar's plans to bring a sumptuous 19th century Ottoman mansion back to life were beautifully presented in a small pop-up exhibition while a bright pink two-storey shed located in a parking lot near KED provided relief from the noise of the surrounding motorway. Titled 'The Silent Room,' the piece by Nathalie Harb was designed to allow people to retreat from the physical, visual and virtual assault on our sense of contemporary consumer society. Getting away from this 'noise' is a need that should be afforded to everyone believes Harb, not just the privileged few who can afford it.
INFORMATION
For more information, visit the Beirut Design Week website (opens in new tab)