Centre Pompidou's candy-striped design show makes waves in the south of France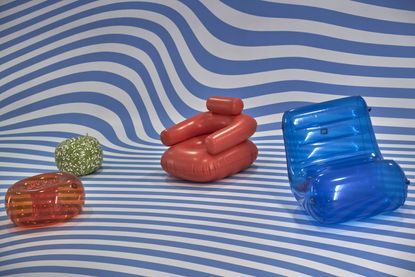 (Image credit: Luc Bertrand)
Holiday mode has officially turned on in the port city of Toulon. Centre Pompidou has invaded with a handful of its design collections, opening an exhibition curated by Marie-Ange Brayer during Design Parade that explores the art of summertime lounging.

Wrapped up in a nostalgic, candy-striped backdrop realised by Parisian designer India Mahdavi, the chairs unfold like sweets inside. Based in the art deco former navy base Cercle Naval, the showcase is a scientific examining of how we used lived closer to the floor with our seating, and how our posture changes when we relax in the summer.

Upon entering the space, the lord of reclined seating, the chaise longue, is presented as a protagonist. Harking from the age of modernism, these mark the start of when holidaying became a pastime and visionaries like Eileen Gray and Robert Mallet-Stevens (architect of neighbouring Villa Noailles) envisioned furniture for their villas. Gray's Fauteuil Transat can move from armchair to deckchair, while a 1995 polyester and aluminium lightweight chaise by Maarten Van Severen shows the style's contemporary evolution.

Upstairs, the more experimental, playful and undulating forms take the floor for the second part of the show – 'Les Pop'. The curves in Mahdavi's backdrop intensify these radical pieces, projecting the essence of the Pop Art era they thrived in. Futuristic forms like a Verner Panton 1958 polyurethane chair and Gaetano Pesce's party poufs scour the area. As a member of the Centre Pompidou board and president of Design Parade, Pascale Mussard is spearheading the institute's three-year long residency in the locale 'Toulon is going to have the design heart,' she muses of the Riviera's burgeoning creative scene.
RELATED STORY
But it's not just chairs in the show, the seaside landscape is completed with a 1983 yellow and grey stripe beach hut by architect Aldo Rossi for Molteni, plus the ultimate relaxation companion – the hammock; more specifically, a Kvadrat fabric version by Jean-Baptiste Fastrez from 2012. Parked up on a sloping stage, appearing to almost topple over, is a draft of inflatable furniture, offering even more retro beach allure. Mussard describes all of the designs as 'shapes that are iconic of the time, but still so strong and powerful'.

Centre Pompidou's pop-up is a pivotal moment for the Provence city, as it celebrated its fourth sojourn of Design Parade Toulon with Villa Noailles during a scorching weekend of poolside bathing, rosé and petanque. Next year will see its new show open in nearby Hotel des Arts, perhaps again disecting another element of Côte d'Azur charm.
INFORMATION
Nouvelles Vagues, 28 June - 24 November; Cercle Naval, Toulon; centrepompidou.fr