Doggy designs: in praise of Kenya Hara's Architecture for Dogs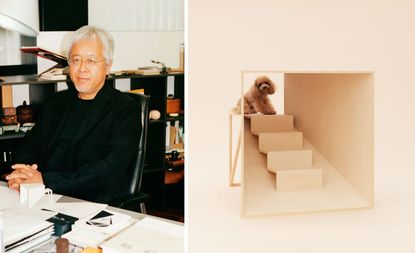 (Image credit: Motoyuki Daifu and Hiroshi Yoda)
December is coming, which can only mean one thing… No, not that, not Christmas; Design Miami. Ahead of the international summit we're thinking of a few of our favorite – or the most adorable, at least – projects from previous gatherings. Namely Kenya Hara's Architecture for Dogs.

Previewed in the December 2012 issue of Wallpaper* (W*165), Japanese graphic designer and curator Kenya Hara gathered a star-studded cast of designers and architects for an online venture to supply free blueprints for 13 different DIY doghouses, each one earmarked for a particular breed. Designer pet homes that anyone could assemble with ordinary household tools and materials, made viral - or at least possible - by the internet. What could possibly go wrong?

Leading the pack, Hara launched the project by designing two doghouses of his own: a hard, paper cone suspended from the ceiling for a Japanese Terrier and a plywood contraption for a Teacup Poodle. Some D2D (designer-to-dog) pairings were somewhat random (architect Atelier Bow-Wow with a Dachshund; Toy Poodle with product designer Konstantin Grcic) but others were special requests, like architect Toyo Ito who wanted to design for this own Shiba, and Kengo Kuma who was keen to make a home for a client's Pug. Pritzker prize-winning architect Kazuyo Sejima wanted to design a cuddly home for her assistant's fuzzy white pup, a Bichon Frise, too.

Since Miami, Architecture for Dogs has traveled to Los Angeles, Tokyo, Chengdu, Kanazawa and, most recently, Shanghai. Growing in scope and depth, what started focusing only on small breeds has evolved to larger hounds too. In Shanghai it welcomed Chinese architect Ma Yansong into the fold with his rather mouthwatering Niku Rug for Labrador Retrievers.

In essence, it remains the same though: 'Architecture for Dogs is not a pet's project,' explains Hara. 'It is a project for architects.' And one the whole world can participate in, too.

'I have the impression that the whole world is interested in babies and dogs,' Hara told us back in 2012, preempting the doggy half of viral internet content. If only he'd included cats...