Storm force: Ishinomaki Laboratory has turned utility into a fine art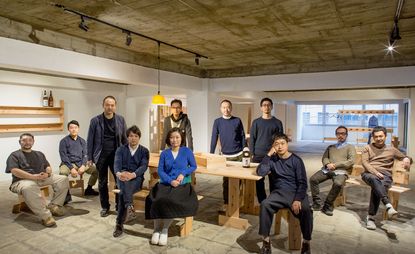 (Image credit: press)
Keiji Ashizawa and Takahiro Chiba, the dynamic duo behind Ishinomaki Laboratory, like to describe their operation as the world's first DIY furniture company. Chiba, a former sushi chef, heads up operations in a large, former wakame-seaweed hangar in the small city of Ishinomaki in northern Japan. Ashizawa – the co-creator of the Hirosaki Knife Box for Wallpaper* Handmade, back in 2011 – pulls the strings from Tokyo, where one of his key tasks (and one he seems to be loving) is to expand the lab's network of talented and resourceful designers.

For a serious furniture producer – now supplying the likes of Muji and Blue Bottle Coffee with interiors and products – the set-up at Ishinomaki is remarkably simple. There are a couple of mitre saws set on long sturdy work tables, two large table saws, a stationary planer, and a large drill press. Combined with a small selection of hand tools, this makes up the manufacturing hardware of the shop. But looking at the furniture it becomes clear that no other tools are necessary. Everything is straight cut, screwed together, with the screw heads left visible, while the raw materials look like they were bought from a local builders' merchant. Most of Ishinomaki's furniture is made from red cedar, with other pieces in Japanese sugi cedar boards, while recently even L-bar steel rods have been used for table legs and shelving units.

A second floor has been constructed on top of the large shop area, with a small office, packing area and showroom. About 70 per cent of the workshop's output is custom-made furniture and shop fittings. The rest is sold under the Ishinomaki Laboratory label. The line-up mainly consists of stools, benches, tables and shelves, all in the same DIY-esque vernacular but with clever touches added by the many designers the company has enlisted.

Ashizawa has succeeded in enticing an impressive list of Tokyo's best to help out, including Torafu Architects, Koichi Futatsumata, Drill Design (recipients of a Wallpaper* 2017 Design Award), Mute and Taiji Fujimori. A few international designers have also provided designs for the lab – most recently British designer Michael Marriott, who presented a whole range of new product ideas, all made using 18mm thick, 140mm wide Miyagi cedar boards. The full collection of beds, benches, chairs, hangers and even a DIY workbench was exhibited and auctioned in Tokyo late last year. The more popular and easier to produce items will be added to the Lab's catalogue later this year.

There is good reason for the company's rough-andready utilitarian approach. Ishinomaki Laboratory developed out of the Ishinomaki Bench, designed by CEO Keiji Ashizawa as seating for a temporary outdoor cinema set up following the massive Tohoku earthquake and tsunami in March 2011.
Ishinomaki was one of the areas worst hit in the disaster. Almost half of the city was flooded by the tidal waves that wrecked the coastal areas in this part of Japan. About 30,000 residents lost their homes, and when I first visited the city just a month after the earthquake hit, Ishinomaki was covered in debris, smashed cars, boats and the remains of the more than 3,500 people who lost their lives here.

In October 2010, Ashizawa had completed the renovation of one of the town's more popular restaurants, and following the quake he quickly got in contact with the owner to see if he could help with anything. 'Half of the restaurant was completely damaged and we decided to tear down that part and rebuild from there on,' he explains. 'Luckily the flooding didn't reach the first floor of the restaurant, so on my visits I could stay there.'

During his visit to the town in early April 2011, Ashizawa noticed two people hard at work fixing up their own buildings. 'I thought that maybe if there was a kind of community workshop with tools and materials readily available, more residents would be able to join in the reconstruction process,' he says. With tools and screws bought by a ¥1m ($8,800) grant from the Japan Foundation and a four-ton truckload of donated red cedar from British Columbia, Ishinomaki Laboratory was a reality.

In summer that year, Ashizawa came up with the design for the now iconic 'Ishinomaki Bench' for a DIY workshop he was running in the town. 'We didn't even have a worktable,' he says, 'so I designed the bench so that it could be made upside down on the floor, which was the only straight surface available to us at the time.' Using just a few lengths of timber, the bench is sturdy without appearing bulky, and can be made by anyone with a mitre saw and an impact driver. The bench was quickly followed by a stool, which is now part of the permanent collection of the V&A in London.

One of the regular visitors and helpers at the laboratory was a young local sushi chef with a quiet passion for DIY. Takahiro Chiba was actually planning to go to Rockland, Maine, to work at Suzuki's Sushi Bar, but started working part time at Ishinomaki Laboratory in October 2011 while waiting for his Green Card to come through. When his application was finally rejected in 2013, he decided to go all in and started working full time making benches and stools that he would sell to cover his rent and provide a salary.
That same year, Ishinomaki Laboratory exhibited at Maison & Objet in Paris and caught the attention of London's SCP. 'I love their traditional modernist principles and workmanship,' says founder Sheridan Coakley. 'The simplicity of their designs in cedar wood was what struck me.'

In Japan, the lab was still very much seen as a kind of non-profit organisation that had grown out of the 2011 disaster, and the name Ishinomaki was associated with the earthquake and tsunami. 'But abroad, no one linked Ishinomaki to the disaster, and it was the design that was getting the attention,' Chiba says. At this point, Chiba and Ashizawa decided to change the communication around the brand and to focus more on the lab being a new kind of DIY furniture company, rather than simply a stop-gap operation in a disaster-struck town.

'The funny thing is,' says Chiba, 'when we started to focus on us being a design company and toned down the story about the reconstruction of Ishinomaki, we started getting quite a lot of complaints. Customers started to complain about small scratches on the benches and our ad-hoc bubble wrapping of the products.'

Many more designs have been added to the initial bench and stool by Ashizawa. Torafu Architects' 'AA' stool series from 2012 features as simple a trestle as you could imagine: just four pieces of wood, neatly screwed together. Combine it with a piece of plywood and you can make a small table, or put six or eight together and you have a small bench. Koichi Futatsumata's recent 'Deck Chair & Ottoman' is structurally one of Ishinomaki's most complicated pieces, but is still made using only thin boards and a few standard-issue studs. While anyone could easily copy the design, Ishinomaki Laboratory takes pride in making it worth buying the original, with maximum attention to finish and the use of special square-headed furniture screws as opposed to regular Pozidriv.

A few textiles (tote bags, cushion covers and an apron) by Drill Design have also been introduced, and a shelving system by Singaporean Gabriel Tan is due later this year. It would seem that what started out as an initiative to help rebuild a devastated town is now helping to put that same town on the international design map.

As originally featured in the April 2017 issue of Wallpaper* (W*217)
INFORMATION
For more information, visit the Ishinomaki Laboratory website
Receive our daily digest of inspiration, escapism and design stories from around the world direct to your inbox