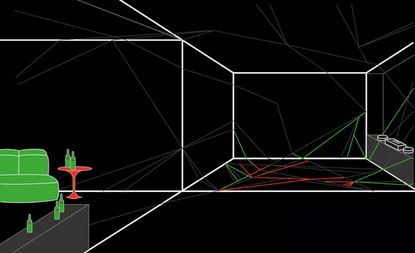 (Image credit: TBC)
Wallpaper* Newsletter
Receive our daily digest of inspiration, escapism and design stories from around the world direct to your inbox
Thank you for signing up to Wallpaper. You will receive a verification email shortly.
There was a problem. Please refresh the page and try again.
Interaction design
Interaction design is, essentially, a computer geek's term, devised to describe the interface between humans and digital products, environments, systems, and services. Usually, this highly specialised design discipline is focused on software development but because interaction design also taps into form and human behaviour, sythesising ideas, satisfying the needs and desires of the product user - imagining things as they could be, instead of on how things are right now – the term has recently been co-opted into other fields of creativity. Nightclub design, for instance.
Right from the Heineken project's earliest inception it was clear that interactive design, ambiance co-ordination, the delicate choreography of the nightclub experience, would play a central role in Heineken's Open Design Explorations project.
In order to develop the ultimate nightclub Heineken selected designers and found New York based party organiser Adam Aleksander and film maker Yukihiro Shoda.
Aleksander is a man who thinks very deeply about nocturnal entertainment, preferring to treat it as a precise science that he calls 'Play'. The mission of 'Play', explains Aleksander, is to provide people with a journey and get them to connect through a variety of specifically designed interactive elements.
Outside the venue? 'It's my goal, as much as possible, to start interacting with people in the line. Charming them, entertaining them, starting to get them out of their shell,' explains Aleksander. At the bar, he explains, it'll be a multitude of low-tech games designed to get people to talk to people they've never met before. Stimulus in the lounge includes different levels of seating and coasters with conversation-starting trivia questions on them. Pro dancers will be planted in the crowd to get the floor rocking. 'Also, I'd like people to be able to reconnect after the event,' he says. 'Perhaps a hub for sharing photos and videos.'
Tokyo-based film maker and motion designer Yukihiro Shoda and Sao Paulo-based Fabricio Lima collaborated with mentor Luc Schurgers of Minivegas, an award winning multidisciplinary creative studio, exploring the 'science of social engagement' and considering the pioneering interpretation of the 'social space'. Yukihiro and Fabricio were briefed on the notion of unexpected, vibrant future concepts and worked with the wider production of a boundary-pushing 'concept club'. Different ambient ideas were researched and tested for the development of the Heineken Open Design Explorations Club's overall image, to be unveiled as a live, week-long club event during the Milan's Salone Del Mobile design festival next week. Here we catch up with the Heineken collaborators…
Designer Adam Aleksander
Calling himself an 'experimental event designer' who combines the disciplines of art direction, carpentry and costume design to create extraordinary experiences, Aleksander's roster of clients is already impressive, including Madonna, Victoria's Secret and Godiva chocolates. 'I throw genuinely fun, elaborate parties all over America,' he says. 'I create unique concepts that integrate with my client's branding. By utilizing my design background, I specialize in building raw or unusual venues with a concept to match. This is the beginning of how I turn ordinary events into memorable experiences. From there on, every aspect of the event is rethought and customized in hopes of creating life-long memories for the guests.'
Wallpaper*: Design wise, who or what has been your inspiration?
Adam Aleksander: For the Heineken Project, I pulled a lot from the three most influential times in modern nightlife. I looked back to the birth of modern nightlife, the disco era - specifically Studio 54 - and even the birth of nightlife itself, the various speakeasies of the prohibition era in 1920-30s New York, and also the experience design of late-1980s rural London rave culture. Essential in this research, I watched countless nightlife documentaries; A Prohibition America (Ken Burn's 'Prohibition' a 5.5hr, 3 part documentary), as well as a few on gritty New York in the 1970's (NY77, The Halston Documentary, and the movie '54', which offers a theatrical account of the characters of Studio 54. I also interviewed countless nightlife veterans, getting their first-hand account of London rural raves as well as the secret and hidden parties of 1980s New York.
W: What is your favourite night club?
AA: My friends and I don't like commercial nightclubs. That's not to say there isn't still fabulous nightlife in New York. We live in the wake of the 'bottle service nightclub' era. The 'Models and Bottles' crowd means only those who are rich enough to purchase a table or wear a short enough skirt can get in. My contemporaries and I are pretty disgusted with the modern nightlife and want no part in it - so we create our own...

We've replaced exclusivity with inclusivity. The real luminaries in nightlife have started throwing their own parties. There's a growing multitude of underground dance parties as well as underground culture parties (eg supperclubs and salons). We don't care about how much money you have, we believe it makes it more special to curate a smaller group of people and grow that group organically. My goal is to make people not feel entitled, but chosen, so they feel they're a part of something special.
W: Tell us about your input into the concept club
AA: The concept club 'Play' is a nightclub without a home base. It moves every few months from location to location, taking advantage of the multitude of empty spaces around the city and world.
W: What is your ambition?
My goal with this nightclub is to give people an evening that they'll remember for the rest of their lives. I want to get them out of their shells; get them invested in making their own fun; to meet new people and open up, I don't want them to look to us for all their entertainment. If you can get your guests to meet new people and get them invested in their own experience, then it's sure to be a success.
Designer Yukihiro Shoda
A film maker and art Director based in Tokyo Yukihiro Shoda studied at the Kyoto Institute of Technology. Upon his graduation he started working in post-production in Tokyo. Afterwards, he started his career as a freelance director with his own distinct style of 'K.I.R. Film', pledging always to 'Keep-it-real', to make more fantastic motion pictures, expressing the essence of things through his films.
Wallpaper*: Design wise, who or what has been your inspiration?
Yukihiro Shoda: Philosophy and society
W: What is your favourite night club?
YS: Womb (Shibuya Tokyo), Eleven (Azabu Tokyo), Oiran (Shibuya Tokyo)
W: Tell us about your input into the concept club
YS: Living in Tokyo city everything moves so fast. We build the city and destroy it at the same time. We gather in nightclubs, and I wanted society to communicate with itself even if it is only for a very short time. Maybe it relates to the existential feeling we Japanese have. We contacted the other designers around the world through Skype so we could share our ideas. It was pretty inspiring to co-create the club with the designers in that way.
W: What is your ambition?
YS: I always want to express the essence of things through my film and design.
Designer Fabricio Lima
Fabricio Lima is a passionate Brazilian designer/director from São Paulo. During his twelve years of experience, he has worked with great studios and production companies around the world, also devoting some of his time to personal projects and design experiences. Despite not having any design educational background, Lima has been part of several projects with clients such as Sony Computer Entertainment Europe, Warner Bros Records and Heineken International among others. Currently Lima resides in São Paulo, working and collaborating remotely with other artists and studios from around the globe.
Interaction mentor Luc Schurgers
Setting up the multidisciplinary creative studio Minivegas in 2005, Luc's expertise lies in creating brand new interactive experiences and, with design partner Dan Lewis, he has a track record in boundary-pushing innovation in film and cross-platform design projects. Luc's work blends comedic, quirky sensibilities with dramatic visual style, and has proved a successful combination, enjoying wins at the Cannes Lions, the CADs and the D&AD for the Minvegas company. His portfolio includes interactive pieces for Art Rotterdam and The National History Museum, alongside brand work including a recent project for Heineken.
Wallpaper*: What's the best club you have been to?
Luc Schurgers: Fabric in London is my favourite club. It has an awesome space, impressive sound system and great programming.
W: What is the most important element of the nightclub experience?
LS: Music and atmosphere. These two things are what get people going. Personally, I am not much of a dancer myself so I like it when there are things to look at in a club space.
Heineken ODE video created by motion designers Yukihiro Shoda and Fabricio Lima, video will be showcased at the entrance to the club to introduce the Sao Paulo designers and their input into the club
Mentor Luc Schurgers portfolio: video asset base used for visual entertainment, the recording can incorporate live social media feeds or real-time images. Designed and created by MiniVegas interaction and design lab
Receive our daily digest of inspiration, escapism and design stories from around the world direct to your inbox
Rosa Bertoli was born in Udine, Italy, and now lives in London. Since 2014, she has been the Design Editor of Wallpaper*, where she oversees design content for the print and online editions, as well as special editorial projects. Through her role at Wallpaper*, she has written extensively about all areas of design. Rosa has been speaker and moderator for various design talks and conferences including London Craft Week, Maison & Objet, The Italian Cultural Institute (London), Clippings, Zaha Hadid Design, Kartell and Frieze Art Fair. Rosa has been on judging panels for the Chart Architecture Award, the Dutch Design Awards and the DesignGuild Marks. She has written for numerous English and Italian language publications, and worked as a content and communication consultant for fashion and design brands.