Can digital tools support staying at home?
Ahead of Google's sound weekend, Nest Sessions in collaboration with Goldsmiths University, we catch up with Isabelle Olssen, industrial design lead at the tech giant to discuss designing for the home, from home and creating virtual room dividers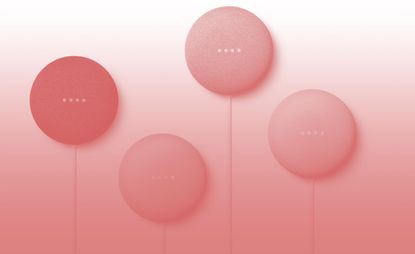 (Image credit: press)
'Now more than ever, the home is that safe haven, literally,' says Isabelle Olsson, lead industrial designer at Google who is hunkered down in sunny California. Home has been an integral part of Olssen's design thinking, with the Google Nest smart home as one of her pivotal projects. This weekend, the tech giant is using this digital tool to motivate our moods.

Google was keen to identify how people are interacting with music during this extended period of time at home, and so they turned to cognitive neuroscientist Dr Diana Omigie at Goldsmiths University, London, to analyse this. Omigie found that individuals are using music as a meditative tonic, and listening peaked at certain times of the day. So how is the design of Google Nest products geared towards helping us at home? 'We have been trying to shift from a design thinking role to a design feeling role,' says Olssen on how they are navigating this time. 'When we discuss a project or a product I asked the designers, how does it make you feel, not what do you think, because you get completely different answers.'
Multi-sensory design
Google's design experience has always included all the senses. As with its 2019 Milan Design Week installation 'A Space for Being' that monitored cognitive behaviour inside different interior environments, the Nest Sessions hope to enhance meditative moments, and this ethos is embedded in Olssen's team process when looking at colours and shapes for the hardware.
'We talk a lot about blending in and fitting into people's lives. For example, for the design of the Nest Hub, we spent a lot of time making sure the footprint of it was tiny so that you can fit it on any shelf you wanted to without displacing a bunch of other objects or the screen itself adapting to the light in the room,' Olssen says, reiterating that they have been trying ensure Google hardware designs continue to harmonise with the home. 'Now more than ever I think that is extremely important.'
'We have been working on this idea of how can technology be more like pieces of furniture, and how can a speaker almost be like that accent pillow and be as versatile as beautiful,' says Olssen, who's own home workspace is a melding of sensory analogue and digital tools – candles, flowers and a window, plus the Nest Hub with the screen rotating pictures of her children.
Designing from home
And how has being at home changed how the team are designing? 'I've been having prototypes on my desk and I've been watching how the light changes throughout the day, and how it affects the form and the colour of the object and how I feel differently about it. And, you know, before we designed our offices to look more like homes and now our homes are offices.'
Virtual room dividers
With this shift of rooms becoming multifunctional – the kitchen and bedroom can now double as an office environment – the Google hardware team is focusing on the range of colours and materials that act as digital dividers around the the home. '[We are thinking about] how can we can create products that help people create different moods, whether the bedroom has a soothing mood, or in the living room where maybe you want to be more energised or where you want to socialise, or the kitchen.'

Those with a Nest smart speaker can start creating their sound zones around the house by tuning in this weekend to mood lifting sessions including talks, music performances and home activities. Just say: 'Hey Google, talk to Nest Sessions.'
INFORMATION
INFORMATION
Tune into Nest Sessions on Google Store