A Google installation in Milan lets you measure which interiors are good for your health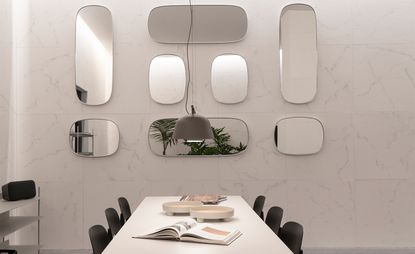 (Image credit: Maremosso)
We all assume that an aesthetically pleasing environment can affect the brain positively. But thanks to a partnership between Google and Johns Hopkins University's Arts + Mind Lab, a new installation being unveiled during Salone del Mobile has the data to prove it.

Spearheaded by Google, A Space for Being is a multiroom experience that is informed by the principles of neuroaesthetics, a field of neuroscience research being pioneered at Johns Hopkins. The installation builds upon last year's 'Softwear' exhibition, which marked Google's Milan debut, and investigates similar ideas of how design can impact our lives. Envisioned by Google's vice president and head of design for all hardware products, Ivy Ross, and featuring specially designed spaces by architect Suchi Reddy, along with a selection of furniture and accessories by Muuto, the installation is set to prompt new discussions on how design and science can be used in tandem that will continue far beyond the week.
'Our presence in Milan isn't about selling products, it's about being a thought leader in design. We wanted to be provocative,' says Ross, a jewellery designer by background who has lead the launch of Google's family of consumer hardware products over the last two years, and advises the Arts + Mind Lab as a Luminary Scholar. 'With neuroscience now, you can prove the things that designers and artists have always known: that aesthetics – which is not just making things look pretty, but enlivening all the sensory systems through space, colour, texture, music and shape – affects our brain, our physiology and our wellbeing. Not everyone understands the power of that, but now neuroscience is able to show that.'

A Space for Being comprises several interactive spaces, including three different room environments for visitors to wander around. Simply named 'Essential,' 'Vital' and 'Transformative,' each of the spaces features a subtle variation of lighting, scent, music, artwork, materials and proportion that creates a distinct sensory experience. Before entering, visitors are fitted with a specially-made band designed by Google Hardware and its Advanced Technology and Projects division, which measures the person's physiological responses along the way. Each band is equipped with four sensors that measure the wearer's heart activity, breathing rate and skin conductance, temperature and body motion. The data is then downloaded and analysed at the end of the installation.
'As an architect, I delight in practising an art that integrates the sciences,' says Reddy, who oversaw the interior and architectural design. 'This was a great opportunity to explore the poetry of architecture, with science as the driver of the design. Knowing that the goal was to create three different moods or feelings, I made particularly conscious choices for every element of the rooms, giving careful thought to the sequence of the experience as well. It was a fine balance of checking the work against published scientific research, and a good old-fashioned gut check of the aesthetic experience.'

In 'Essential,' she created an intimate, earthy feel, and included a specially commissioned panoramic woollen tapestry by Dutch visual artist Claudy Jongstra; 'Vital' is rather more playful; and 'Transformative' features a natural, refined feel with a neutral palette, as well as a minimal sculpture by the Rotterdam-based designer Sabine Marcelis.
The realistic, tastefully appointed interiors of A Space for Being makes the variety of results that each visitor will receive all the more impactful. While an individual's responses are governed by their unique genetics and conditioning, some of the more widely proven data suggests it's common to see positive reactions to artworks featuring faces or landscapes, and to natural scents such as lavender and sage.

Filled with furniture exclusively from Muuto, the different rooms have a common aesthetic, which further helps to focus each individual's physiological reactions on the sensory stimuli, rather than allowing personal taste to get in the way. Ross says having spent a short period of time in each room, the visitor will find out 'in which room their physiology appears to be the most at ease or comfortable, which I hope will be a surprise in some cases. Sometimes your conscious mind, your frontal lobe, walks into a space and says, "I love this", but maybe your physiology is more relaxed in a different room than you think.'

Christian Grosen, Muuto's design director, adds that 'only a few people can explain why a given design makes them feel a certain way, or why they prefer one space over another. This is where this project is interesting; it's like creating a new language around aesthetics that can help us express what we are not able to communicate in words.'
Susan Magsamen, executive director of the Arts + Mind Lab, explains: 'Over the last 20 years, neuroscientists have really begun to look at how the brain changes with aesthetic experiences, looking at vision, smell and touch.' What the lab is really interested in 'is from an application point of view, how you can use the information to solve problems. Increasingly we are trying to get at personalised neuroaesthetics for health, wellbeing and learning. In physical health, for example, there's the use of drumming or other kinds of movements to help sufferers of Parkinson's disease.'

One particularly impressive application of neuroaesthetics has been the sensory healing room at the Brain Sciences Institute at Johns Hopkins. Currently being designed by Reddy in collaboration with the Arts + Mind Lab and due to be completed in 2020, the room facilitates the recovery of children suffering from disorders of consciousness by creating personalised sensory environments tailored to each patient.

A Space for Being will let the general public in on the action, too. It will give each visitor the unprecedented chance to receive feedback and insight into their personal reactions to different environments. To address privacy concerns, once the data from the band has been assessed, it is erased in front of participants straight away.

'At the end of the day, we're saying, design matters more than you think. I want everyone to know it,' Ross concludes. 'We are all striving for wellbeing and to be less stressed in our lives. There are choices we can make about the environments we surround ourselves with, which can actually enhance our physiology and put us into a more peaceful state. There's no other agenda than that.'

As originally featured in the May 2019 issue of Wallpaper* (W*242)
INFORMATION
A Space for Being is on view from 9-14 April. For more information, visit the Google Store website (opens in new tab), the Reddymade website (opens in new tab), the Muuto website (opens in new tab) and the Arts + Mind Lab website (opens in new tab)
ADDRESS
Spazio Maiocchi
Via Achille Maiocchi, 7
Milan
VIEW GOOGLE MAPS (opens in new tab)
Pei-Ru Keh is the US Editor at Wallpaper*. Born and raised in Singapore, she has been a New Yorker since 2013. Pei-Ru has held various titles at Wallpaper* since she joined in 2007. She currently reports on design, art, architecture, fashion, beauty and lifestyle happenings in the United States, both in print and digitally. Pei-Ru has taken a key role in championing diversity and representation within Wallpaper's content pillars and actively seeks out stories that reflect a wide range of perspectives. She lives in Brooklyn with her husband and two children, and is currently learning how to drive.