Wallpaper* speaks to AdiZero Primeknit designer James Carnes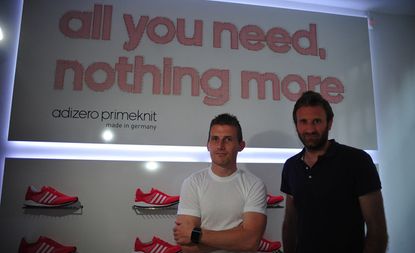 (Image credit: TBC)
Could the AdiZero Primeknit change the way shoes are made? The latest performance running shoe from Adidas is made from one continuously, digitally knitted polymer yarn - of the kind used to make parts of some furniture - including all of the supportive elements found in a traditional shoe. No lining, reinforcement or glues are required to make it extremely lightweight, breathable and unexpectedly strong. The project, the teamwork of product design consultant Alexander Taylor and James Carnes, head of design for sports performance at Adidas, began in 2008. Four years on, Carnes, speaking below, believes the manufacturing process behind it could be revolutionary.

Was the R&D process a smooth one?
From the outset it was an interesting idea from an innovation point of view - exploring ways to contribute to the athlete's experience but potentially also changing the way shoes are made altogether. We met with the knitting supplier in 2008 and initially their response to making a shoe was one of excitement - and then of daunted confusion. How could we tailor these machines and their software to work with the more 3D fit needs we had? And how could we take advantage of the properties of the available yarn to perform as all parts of a shoe usually perform? But by 2009 we were going through rounds and rounds of prototypes and it seemed like it would work.

Have you been at all surprised by the success of the project?
I have to say that of all the new concepts we reviewed at the beginning I wouldn't have picked knitting as the one that would work. I trained in car design so was more familiar with the idea of maybe using one piece of carbon fibre, for example. But I've been designing sports performance footwear for 17 years and this is the most exciting project I've been involved with. We'll be using knitting with lots more shoes by next year, not just performance products but even with Originals models like the Superstar. Whether knitted shoes will be around in the next 50 years I don't know. But the automated system used to make them has huge potential - in terms of keeping manufacturing local, for example, or in terms of attaining new levels of sustainability. I think it really could be revolutionary.

It's great to have a sports shoe made in western Europe again...
With the right machinery - and it's not a big machine, kind of average room-sized - the shoes could be made anywhere. And the fact that these are made in Germany - and, of course, Adidas started out in Germany - makes it all very cool. It uses a minimal amount of manpower so labour costs aren't an issue, even when they're high, as they are in Germany. There's no incentive to move production to China, for example. The implications of that are huge. It reminds me of footwear manufacturing in Italy, where a lot of it looks like it takes place in a house with a garage attached - but that small scale, local production has sustained the Italian footwear market for 100 years or more.

What have been the early reactions to the shoe?
The idea takes a little getting used to. Most people look at it and are attracted to the textile feel of it and say that it looks comfortable but assume it can't be that durable. But the specification of the polymer yarn means that, in fact, it's very durable. We could, for example, make football boots with this method - the yarn melts and forms a kind of toe-cap. There's more built into the knit than at first seems the case. Then you put them on and you think 'wow, these are soft, but I'm not sure I could run 20km in them'. But the athletes who tested them have been really surprised. Like any new technology, there's an adoptive curve: some people jump on it, others have reservations and come to it later. I'm a runner and I think they're great. Have they improved my running? Well let's say that the way I've been running lately, I'm not sure anything would do that.