A Gio Ponti design created for a New York icon has a happy landing at Salone del Mobile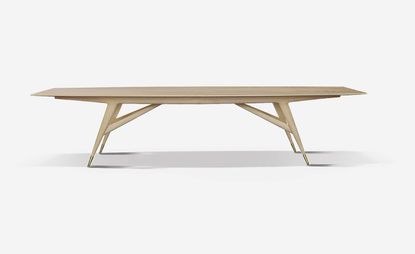 (Image credit: Molteni & C)
Gio Ponti's 'D.859.1' table was originally designed to sit atop a Manhattan skyscraper. It was the centerpiece of the Milanese master's most extensive project in New York: an auditorium perched on the eighth-floor terrace of Harrison & Abramovitz's Time & Life Building. When it first opened its doors in 1959, Ponti's auditorium was the ultimate gathering place for the sharply suited businessman. Indeed, it was intended to woo advertisers and facilitate high-powered business meetings for Henry Luce's Time Inc, then at the apex of a mighty media industry. Hoping to beef up his profile in the Big Apple, Ponti had rained down on that little space all the lustre of Italian luxury he could muster.
A 1960 issue of Architectural Forum describes the chapel-like space as bordering on the Baroque, its floors 'a grand lava flow of marbleised sheet rubber in yellow with streaks of green, and dark blue'. Its walls were 'punched with luminous-colored glass block', and its furniture 'neo-art-nouveau, [with] as many joints as a praying mantis'. The table, at 3.6m, was long enough to comfortably fit ten people. Originally made of solid ash, with curving splayed legs like flying buttresses, it held an impressive tabletop tapered at either end that felt years ahead of its time.
The Time & Life auditorium was met initially with breathless regard, but gradually fell out of favour. As time went on and styles evolved, the space was locked up. It was unceremoniously gutted in 1981 and its pieces sold off at international auctions. Happily, 60 years later, a piece of this crown jewel has been revived for a wider audience.
Launching at Salone del Mobile, the 'D.859.1' table is the latest project to emerge from Italian furniture giant Molteni & C's ten-year exclusive licence with the Gio Ponti Archives. The collaboration began in 2010 during a visit by Carlo Molteni, the company's president, to the studio of photographer Paolo Rosselli, Ponti's grandson. A bookcase caught the furniture magnate's eye. 'He was immediately drawn to it,' says Francesca Molteni, Carlo's daughter and the company's director of special projects. 'He didn't immediately know it was by Ponti, but he knew there was something special about it. It turned out to be a piece that had never been widely produced.'
The bookcase in question was the 'D.357.1', designed for Ponti's family home on Milan's via Dezza. Like much of Ponti's furniture, it was a one-off piece created only for that particular space. Astounded that a major design by one of the greatest midcentury architects could live hidden for years, Carlo hatched a plan to let Ponti's forgotten gems see the light of day.
'We did a lot of research with the Gio Ponti Archives,' says Francesca. 'We found pieces that hadn't been produced industrially, or had just been produced for one-off projects.' Following the green light from Ponti's heirs, Molteni & C got to work recreating and preserving the designer's lesser-known works. 'We need to sustain the strong legacy of Italian masters,' explains Francesca.
Salvatore Licitra, another of Ponti's grandsons, oversees the archive and works with Francesca to decide which pieces will go into production. Having already released pieces including an armchair from the Ponti-designed Villa Planchart in Caracas and a side table from Ponti's via Dezza home, both parties agreed it was time to add a showstopper table. The 'D.859.1' table hadn't had much of a life beyond the Time & Life building. Molteni & C had to rely on the vast trove of technical drawings in Ponti's archive to recreate it.
'Ponti invented furniture like this because he would have liked to have made it widely available,' says Licitra, 'but the industry wasn't sophisticated enough to produce such pieces.' The Architectural Forum review describes the curves of Ponti's furniture as 'beyond the capacity of American mechanical civilization'. Though he often worked with American company Singer, more complicated designs, including the 'D.859.1' table, were made by artisans in Italy. Now, with the advent of machines capable of shaping wood into Ponti's fluid lines, Molteni & C is able to produce the table on a larger scale. 'He was always ahead of his time', says Licitra.
As originally featured in the May 2018 issue of Wallpaper* (W*230)
INFORMATION
The 'D.859.1' table is at the Molteni & C booth from 17 – 22 April at Salone del Mobile. For more information, visit the Molteni & C website (opens in new tab)
ADDRESS
Hall 20, Rho Fiera
Strada Statale Sempion, 28
20017
Milan
Laura May Todd is a Canadian-born, Milan-based journalist covering design, architecture and style. In addition to the Italian dispatches she writes for Wallpaper*, she regularly contributes to a range of international publications, including T: The New York Times Style Magazine, Architectural Digest, Elle Decor, Azure and Sight Unseen. Prior to her work as a journalist, she was assistant editor at London-based publishing house Phaidon Press.