Garden of Wonders creates a feast for the nose and eyes in Milan's Botanical Gardens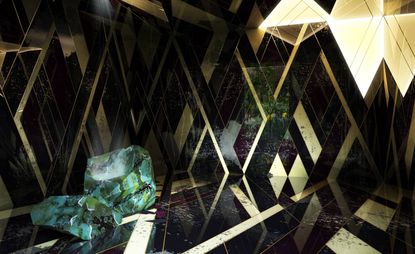 (Image credit: press)
If the wisteria waterfalls of Brera's Botanical Garden (or the charming spread of gleaming, golden Laviani animal statues dotted around) don't get to you first, Be Open (opens in new tab)'s Garden of Wonders will.

The international foundation of design and creativity has taken the world of fragrance to heady new heights with its latest project, a threefold approach to the world of fragrance. 'It is our way of proposing an alternative way - through design - to preserve traditions by adapting them to contemporary challenges and eventually explore new possibilities for small brands,' explains Be Open founder Yelena Baturina.

To begin with, the educational piece, 'A Journey Through Scent', narrates the evolution of perfume and fragrance - as well as its production and history - through an olfactory experience. Submerged in a dark mini-museum, large glass flasks and bottles hold what appear to be granules of salt. Giant atomisers reveals an ingenious way to share intense bursts of the different scents without these mixing up into a strange, sickly concoction.

Back in the garden, in the far side, the 'Houses of Wonder' are most exciting of all. These eight 'casitas' house pavilions have been created by various designers to revive and interpret long-forgotten perfume brands. Among the designers looking back at defunct luxury labels are Tord Boontje, Fernando and Humberto Campana, Dimore Studio, Front, Jaime Hayon, Piero Lissoni, Jean-Marie Massaud and Nendo. Their design aesthetic is clearly recognisable - the Campana Brothers interpretation of Veredas, for example, was inspired by Gruta do Veredas, a natural grotto in the state of Bahia in Brazil, and brought to life with a wicker, cave-like installation. Others, like Front and Dimore Studio, have taken a more sensory approach by using fading lights and the sound of rain respectively to illustrate their fragrances.

For the the third and final part of the project, 'A Vision in a Box', a golden cube-like display holds the bottles of nine totally different designers. Illustrating the importance of packaging, names such as Werner Aisslinger, GamFratesi, Mist-o and Thukral & Tagra have taken on the challenge of imagining bottles for the fragrance of the future.

The exhibition's Salone (opens in new tab) debut has undoubtedly been well received - no doubt in part thanks to the glorious weather which brings out the best of the Brera gardens - and is set to continue for EXPO 2015 in May.
ADDRESS
The Orto Botanico di Brera
via Brera 28
20121 Milano
View Google Maps (opens in new tab)