Flight of fancy: watch Studio Drift's kinetic installation for 2015 Venice Art Biennale take off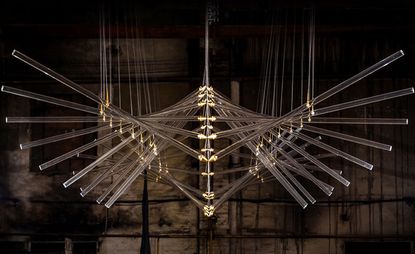 (Image credit: TBC)
Thin glass bars cleverly crafted to move like wings make up Studio Drift (opens in new tab)'s latest body of poetic work for the 2015 Venice Art Biennale.

Titled In 20 Steps, the Amsterdam-based artist-designers have channeled the 'human desire to be able to fly, despite the force of gravity, and the poetry of persistence in the face of adversity,' into one beautiful form.

It is that lyrical spirit that seems to fuel the elegant glass being of Lonneke Gordijn and Ralph Naura; at once entirely natural and utterly mythical. In truth, it is operated by a complex system of brass-tipped glass bars, delicately suspended from the ceiling of Berengo Foundation's Centre for Contemporary Art and Glass, pivoted by invisible plastic wires. The same wires are attached to an electronic system that rhythmically lengthens and shortens each, creating that mirrored undulating movement which mimicks flight.

'It says something about how we, as people, always think that we are able to understand everything,' they explain. 'To create a manul for it. As if everything can be completely understood. In 20 Steps refers to a logical, systematic way of explaining an ultra complex and inhuman activity, which actually cannot be explained. It has a certain irony in it.' An irony further reflected in the fragility of the glass wings and its industrial setting, both in direct conflict with the concept of freedom and flying away.

Part of Glasstress 2015 Gotika, a joint event with Berengo Studio and the Hermitage in St Petersburg, the installation also reflects the event's namesake theme. Studio Drift's interpretation centring on a shared desire of all humanity: 'the wish to escape earth and make the impossible possible.'

This kinetic sculpture is the latest of a beautiful crop from the Amsterdam-based duo. Their delicate and ethereal designs, along with their fascination with movement and light, has quickly becoming their signature - see their Rijksmuseum installation Shylight or dandelion-inspired spectacular from Fragile Futures. The common thread being that epic dialogue between opposites - a high tech dance, if you will - between nature and technology, fantasy and reality.
ADDRESS
Berengo Foundation
Berengo Centre for Contemporary Art and Glass
Campiello della Pescheria, Murano
VIEW GOOGLE MAPS (opens in new tab)