Fabio Novembre launches 'Lapsus' at La Dictateur gallery - dressed in drag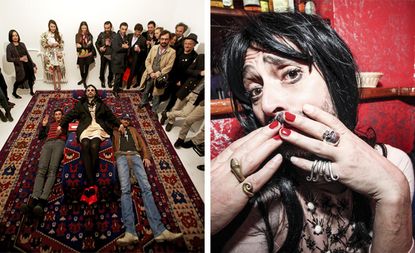 (Image credit: Settimio Benedusi)
On day three of the Salone del Mobile, we couldn't help but notice a lovely brunette donning a crystal crusted dress and lipstick red patent leather Mary Jane shoes in the window of Milan's Le Dictateur (opens in new tab) gallery. The gallery is run by photographer and professional jokester Pierpaolo Ferrari (opens in new tab), while the winsome woman turned out to be none other than Italian architect Fabio Novembre (opens in new tab) dressed in drag.

Novembre used the tiny one-room gallery space as a live theater event to unveil 'Lapsus' - his latest carpet-chaise lounge design produced in a limited edition by Gufram (opens in new tab).

The design, the designer and the evening's entire orchestration was fraught with psychological implications and the kind of humorous high jinx we need to see more of during Milan's Salone.

Typically known for his blatantly heterosexual Italian masculinity, Novembre was donning panty hose and a purse, while his wife, model and blogger Candela was dressed as a skinny little boy in a cropped black suit.

In his female garb, the designer dramatically sprawled himself across Lapsus, a carpet-covered lounge chair inspired by Le Corbusier (opens in new tab)'s famous design and Sigmund Freud's shrink sofa. Even the pattern on the carpet overlay got into the act - it was inspired by inkblots used in the famous Rorschach pyschological test whereby doctors are able to determine whether you are mentally insane or not.

Novembre, it turns out, is perfectly sane and just a playful prankster. He finished off the evening at a topless bar called La Carrozzeria (opens in new tab) (Italian for 'autobody shop') trailed by an enormous gaggle of his followers.

From that point on, we really can't say what happened.