Pod cast: exhibitors at this year's Design Miami are in their element
Porky Hefer's inhabitable sculptures for Southern Guild join a crop of galleries fitting into the theme Elements: Water that curatorial director Aric Chen assigns for Design Miami 2019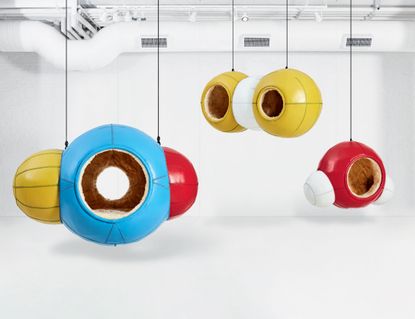 (Image credit: Hayden Phipps)
At this year's Design Miami, Porky Hefer plans to give us all a science lesson. Taking his playful vision to a microscopic level, the designer will craft inhabitable sculptures in the form of molecular structures for Southern Guild gallery, using bright leathers corresponding to atomic colour codes.
While known for his fantastical, animalistic creations, this new collection has seen the Cape Town based designer create giant, spherical seating pods made up of differently hued sections, each representing a different element. For example, in his 'Water' pod, two white atoms of hydrogen and one red atom of oxygen have been brought together to form a cosy fur-lined nook.
Coincidently, Hefer's ode to H2O also fits in with the theme for 2019, set by Design Miami's curatorial director Aric Chen. Named Elements: Water, it's a continuation of his Basel offering, Elements: Earth, in which he curated a range of projects that investigated the future of materials, resources and making.
Elsewhere in the fair, Georgian design studio Rooms will be encouraging visitors to return to their rebellious school days by asking them to deface one of its wooden benches, while Melbourne gallery Broached Commissions joins the line-up for the first time – taking a slightly different approach, it will be showing a collection of Victorian antiques that have been contemporised and brought back to life.
INFORMATION
Design Miami is on view 3-8 December
miami2019.designmiami.com (opens in new tab)