Sustainability is at Clerkenwell Design Week's creative core for 2018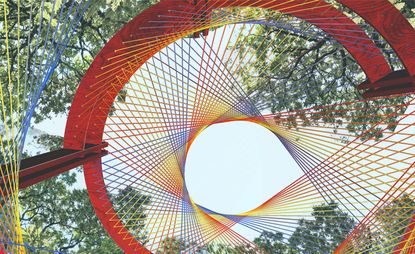 (Image credit: press)
Now entering its ninth year, Clerkenwell Design Week (22-24 May) continues to position the east London district as an international design hub with its annual celebration of creativity. Aside from the new launches that are freshly imported straight from Salone del Mobile (that can be appreciated in much calmer environments), the show also hosts installations, new showroom openings and talks at locations from Fabric nightclub to St John's Square via Spa Fields. Sustainability is high on the agenda this year, with projects including an anti plastic initiative raising money for Maggie's Centre, and an environmentally friendly courtyard pavilion. Here we have picked out the unmissable highlights to look out for...
Pipe Line bench by Lou Corio Randall
Lou Corio Randall showcases his new approach to street furniture with this playful bench that will be found in all corners of Clerkenwell. Proving that a single line can portray any shape, he uses the design week's signature pink hue to form a silhouette out of a single line of steel. 'I wanted to move away from the mundane archetype of street furniture and address the need for bike storage,' Randall says.
Petite Friture x Fora
Last year, co-working space Fora opened in Clerkenwell offering an architectural workspace for local creatives. For 2018, Fora is securing its place in design week by getting a decorative makeover by French brand Petite Friture. The exterior walls and entrance will be wrapped up in illustrator Lisa Laubreaux's charming wallpaper, while inside, lighting by Constance Guisset and Sylvain Willenz, plus other design objects, will recreate the brand's whimsical world.

71 Central St, London EC1V 8AB; www.foraspace.com (opens in new tab); www.petitefriture.com (opens in new tab)
Form Us With Love for Shaw Contract
The Swedish collective are previewing a new creative flooring project for Shaw Contract. Officially launching at NeoCon Chicago in June, the graphic designs have been a year in the making addressing the question 'What's Next?' in the dynamic shapes that will splatter the US brand's space. Pictured: The Curve shape from the Inside Shapes collection.

33 Great Sutton Street, London, EC1V 0DX; www.formuswithlove.se (opens in new tab); www.shawcontract.com (opens in new tab)
Next Generation Design Pavilion
Each year, in the St. James' Churchyard, the attention turns to the next generation of designers with an initiative that sees GCSE students realise an interactive pavilion. The winning entry this year responded to the theme of sustainability with a technicolour tornado structure that represents past, present and future through layers of wire. The installation will also invite guests to look up and admire the bucolic natural surrounds.

Clerkenwell Close, London EC1R 0EA
Stellar Works showroom
In celebration of its first London showroom, Chinese brand Stellar Works are using the raw, unfinished space on St John Street to unveil its newest launches against a photographic installation. Titled Shanghai: Shift the immersive display will see creative directors Neri & Hu take the products out of the domestic context with a uniquely cinematic lens.

99 St John Street, EC1M 4AS; www.stellarworks.com (opens in new tab)
INFORMATION
Clerkenwell Design Week is on view 22 – 24 May. For more information, visit the website (opens in new tab)