Clay mates: Wallpaper* Handmade exhibitor Adam Silverman has been hard at the wheel ahead of Salone 2015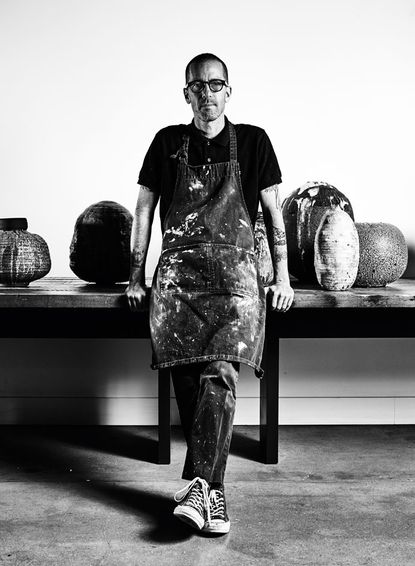 (Image credit: TBC)
The potter Adam Silverman (opens in new tab) likes to call his unlikely 2014 collaboration, 'A Tale of Plant & Pot', with Hiroshima-based cactus guru Kohei Oda, a 'blind date.' Though the venture yielded a dynamic merger of Oda's self-described 'ugly but beautiful' grafts and Silverman's 'ambitious pots' - all of which sold out in Venice and subsequent shows in Kyoto - Silverman admits he wasn't exactly sold on the concept when he first heard about it. 'The idea of making pots for plants is fine, but I'm trying to do something a little higher up the food chain,' he says.
He's currently preparing new works for his fifth solo show at Tokyo's Curator's Cube gallery (opens in new tab), lighting fixtures for a forthcoming Dior store in Seoul designed by Peter Marino, and crafting 'lumpy, maybe beautiful' translations of Fabergé eggs with David Wiseman for our own Handmade installation during this month's Salone del Mobile in Milan.
He's no stranger to functional collaborations. So after he saw some of Oda's books, the ceramicist sent a couple of test pots across the Pacific for the haute horticulturist, who achieved stunning effects by planting his exotic hybrids inside the crackling, organically-shaped vessels.
'I am not interested in the outer beauty of plants, I'm attracted to a unique plant that makes me imagine its story,' says Oda, 36. 'I was very impressed by Adam because his approach was very essential. For a plant, a pot is a place to live. We are able to create nothing if we can't give them this and his pots and my plants shared a common point of view, they didn't limit my choices.'
If anything, Silverman's ceramics open new pathways for considering the beauty of unintuitive, multi-fired glazes (evoking everything from pools of indigo to Martian terrain) and formalist arguments (he's currently distorting finished vessels with hammers and punching knuckle impressions into the sides of new beehive-like creations on the wheel).
While he hopes to start making larger works, he doesn't want to scale up his operation just to meet the market. 'What feels right for me and my life right now is to come in here, sit here and just throw things.'
For the full, unabridged version of this article, turn to our May 2015 issue, W* 194 - out now
ADDRESS
The Wallpaper* Arcade
Via San Gregorio, 43
Milan
VIEW GOOGLE MAPS (opens in new tab)